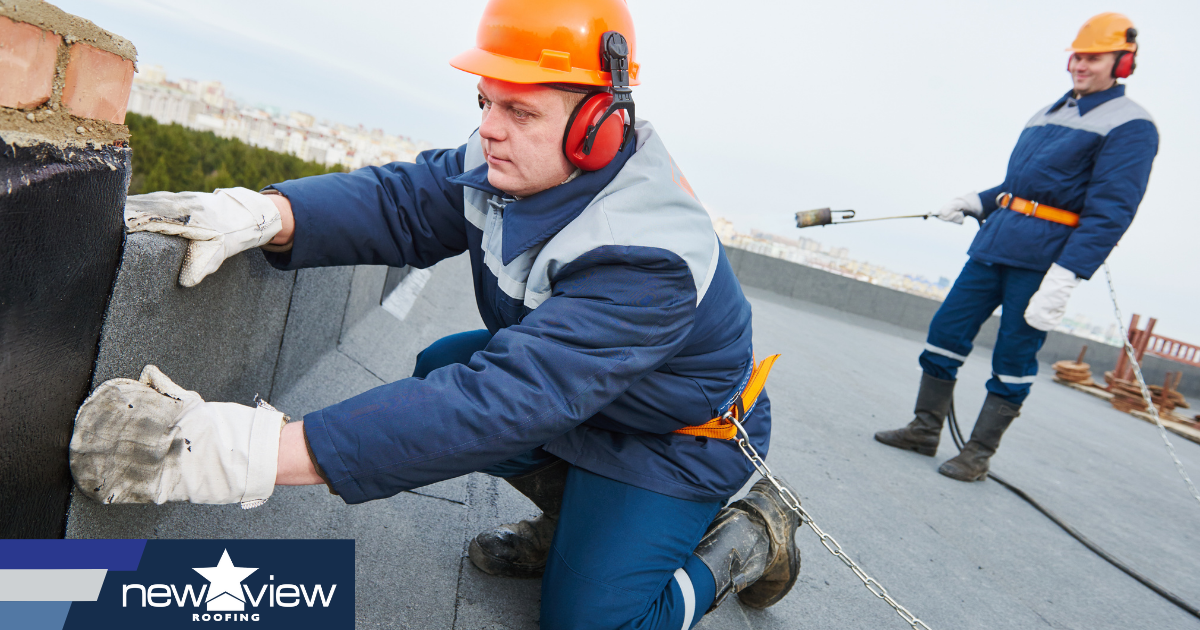 TPO (thermoplastic polyolefin) and PVC (polyvinyl chloride) are thermoplastic single-ply roofing membranes that have heat-welded seams. Both are considered "cool" roofing materials and can save you money on energy bills. They're also installed using a similar process. The differences between the two materials lie in their chemical formulas. Both are designed to conform to the movement of the roof; however, PVC has better chemical resistance and tends to be more flexible than TPO. TPO tends to be the more affordable option of the two and offers better thermal expansion properties.
More on TPO Roofing Materials 
 TPO, a single-ply (meaning one-layer) roofing membrane is one of the fastest-growing commercial roofing products on the market. These types of roofs are incredibly popular because they're generally simple to install; they're also incredibly versatile and durable. These factors combine to make using TPO roofing materials a smart choice for many business owners – particularly when it comes to saving some cash.
TPO roof membranes come in sheets that are 10, 12 or 20 feet wide. Your installers will choose the appropriate width to minimize the number of seams on your roof. The fewer seams there are, the more water-resistant your roof will be, so this is a way your contractor helps minimize your risk of leaks.
Some of the other benefits of TPO roofs include:
Exceptional water resistance
Naturally reflective surface that repels UV rays, which can damage building components
They're made from a single layer of synthetic materials and reinforcing scrim, so they're generally very affordable
You can choose what type of insulation you want to use with TPO roofing materials
TPO is Class A fire-rated, and there are fire retardant chemicals added to the product during the manufacturing process
How Can TPO Roofing Save You Money? 
Particularly when compared to black roofs made from materials such as EPDM, TPO roofing reflects UV rays and heat from your building. You'll save money on energy use to cool your building indoors. Additionally, it's one of the more affordable roofing materials available.
TPO Roof System Installation 
TPO is a durable yet cost-effective membrane designed for commercial and industrial single-ply systems. TPO is known for its:
Economic benefits
Ease of installation
Energy efficiency
Thermal expansion properties
Many people choose to have TPO roof systems installed because the process is much less labor-intensive than it is with other types of roofing materials, and that's another way building owners can save money.
Insulation on TPO Roofs 
All roofing materials need some type of insulation. With TPO roofs, you can generally choose from:
Polyisocyanurate, or Polyiso. Polyiso is the most-used insulation type, and although it's more expensive than other types of insulation, it has a higher R-value rating.
Expanded polystyrene, or EPS. EPS is used on roofs, walls and even floors because it has the highest R-value when measured against its cost. It can even be used for ground contact, and it doesn't retain water over time, which makes it an attractive choice for many commercial building owners.
Extruded polystyrene, or XPS. XPS insulation is generally blue, green or pink, but you won't see it through your roofing materials. This is a middle-of-the-road insulation when it comes to price and performance, and it's semipermeable.
What is R-Value? 
R-value is a measure of how well a material resists heat flow. The higher a material's R-value is, the more capable it is of insulating. R-value is incredibly important when you're choosing commercial roofing materials, because the thicker your insulating layer is, the more thermal resistance your roof will provide. If you're insulating a roof on a building that must remain cold, for example, you'll want an insulation with a very high R-value and thickness.
So what R-value do you need? Your commercial roofing contractor will guide you, but here's a quick look:
Attics need between R-30 and R-60
2×4 walls need between R-13 and R-15
2×6 walls need between R-19 and R-21
Floors and crawl spaces need between R-13 and R-40
For your purposes, depending on the specifics of your building, your commercial roofing contractor will likely recommend an insulation with an R-value of between R-30 and R-60.
Schedule a Commercial Roof Consultation Today
How Much Does TPO Roofing Cost?
Every roofing project is different, which means there's no one-size-fits-all cost when it comes to TPO roofing materials. Generally speaking, it costs between $3.50 and $7.50 per square foot for both materials and labor, although there's a lot of leeway on the upper end. These are some of the factors that will affect your price:
Your roof's size
The condition of the roof you already have
Whether you're installing a completely new roof or you're building new construction
How easy it is for workers to access your roof and bring materials to its top
The insulation you choose
The membrane you choose
Whether there are any roof penetrations (such as vents and chimneys)
The type of warranty that you choose with your roofing materials (or what the manufacturer offers)
How Long Does a TPO Roof Last?
TPO roofs, with proper maintenance, generally last between 15 and 20 years. If you notice any issues with your roof, such as seams coming apart, punctures, or failing flashings, you should have them repaired by an expert immediately. If you notice a leak, you need a roof inspection to find the source and stop the problem right away. Your inspector will:
Find out where the leak is
Ask you how old the roof is
Determine how many layers the roof has
Examine the condition of the roof's seams
If the damage is too severe, or if your TPO roofing materials have "aged out," you may need to replace your entire roof. However, it's always worth seeing if you can make repairs before investing in a completely new roof.
When you do need a new roof, your commercial roofing contractor will talk to you about all your options, including what types of materials are available, which materials are the best choice for your budget and your needs, how long it will take to replace your roof, and how long you can expect your new TPO roof to last.
Schedule a Commercial
Roof Consultation
Call 469-232-7220 or fill out our online contact form to schedule a roof replacement consultation with New View Roofing. We can provide a free inspection within 24 hours of receiving your request.