High winds have the potential to tear shingles from your roof, leaving the roof deck and underlayment exposed to the elements. Wind can also lift and curl shingles by breaking the adhesive seal underneath that bonds them together. This leaves your roof vulnerable to wind-driven rain and other threats caused by extensive wind storm damage.
How to Tell if Your Roof Has Wind Damage from a Storm
Damaging winds are those clocking in at more than 50 miles per hour, but even low-speed winds can damage your roof. Although well-constructed, high-quality roofing materials can stand up to storms better than their low-quality counterparts can, any roof is susceptible to damage during a Texas storm.
The most obvious sign that your roof has been damaged in a storm is a leak in your roof. You might see a few drops of water in your attic, or you may have a huge hole in your roof that's gushing with water. If you're like most people with storm damage, yours will be somewhere in between. However, one thing is for certain: roof leaks never get better with time. They only become worse, and the longer you wait to repair a leak, the more extensive (and expensive) the damage will be.
Other signs that your roof has been damaged in a storm include:
Missing shingles
Bald spots on shingles
Loose debris on your roof
Dents in your shingles
Clogged or broken gutters and downspouts
Ice dams on your roof
Visible moisture in your attic
Mold or mildew growth
Take a closer look below.
Regular roof maintenance can extend the lifespan of your roof and save money on a premature replacement. As a trusted Dallas roof repair contractor, New View Roofing will give you peace of mind that your home is protected.
Roof Damage - Wind Damage - Roof Repair
High winds can lift shingles from their fixed positions on your roof, and that's a big problem. Your shingles are your roof's first line of defense against the elements, and they protect several layers of roofing materials beneath them.
If your shingles are missing – or even if they're slightly lifted after a storm – you should call a professional to check your roof for other signs of damage. Missing shingles need to be replaced as soon as possible.
Asphalt shingles are covered in tiny granules that help them shed water and reflect the sun's harmful UV rays.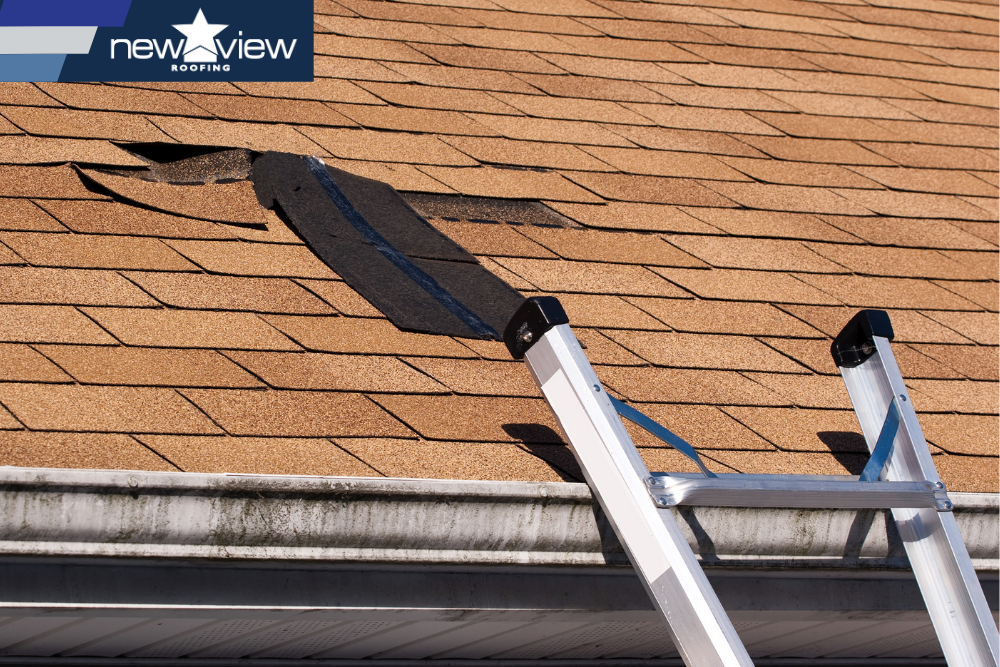 Over time, it's natural for these granules to become loose or fall off – and after a storm, your shingles could lose all their protective coating. If you see what appears to be bald spots on your shingles, or if you find small shingle granules in your gutters or near your downspouts, you need to contact a roofing expert right away.
Loose Debris on Your Roof
High winds can send debris – such as tree branches and other items – crashing into your roof. Although most roofs are strong enough to keep things from entering your home, the impact could cause damage to your shingles or roof tiles. Eventually, damaged roofing materials will leak. When water makes its way into your home, your house is susceptible to all kinds of other damage, including wood rot, mold or even a roof collapse. A leaking roof can even compromise your home's structural integrity.
Dents in your shingles are signs that foreign objects have impacted it, and that can cause serious problems – particularly if the impacts have loosened or dislodged your shingles. If you notice dents in your shingles, cracks in your tiles or damage to any part of your roof, you should call a roofing expert as soon as possible to evaluate the extent of the issue.
Clogged or Broken Gutters and Downspouts
Clogged or broken gutters can cause serious problems for your home. After a storm, you should check your gutters as soon as possible. Remove any clogs you find, because clogs interrupt the natural flow of water. When water can't flow through your gutters, it overflows – and in some cases, damp piles of leaves and debris sit up against your house. These damp piles can cause moisture to permeate the wood supporting your roof, and that can lead to mold or wood rot, which both compromise your roof's integrity.
Broken gutters are an equally serious problem, but for different reasons. Your gutters' only job is to guide water safely through a downspout and away from your home's foundation. If they're broken, they can't do that – and that means water will spill over into the soil around your home. With enough water spillage, your basement can leak and your foundation can crack, and both are serious (and costly) problems.
Visible Moisture in Your Attic
Check your attic for signs of moisture. That doesn't necessarily mean you see water dripping; signs of moisture include water-stained wood on the rafters, a moldy or mildewy smell (or visible growth), frost building up during the winter, or soggy insulation. If you notice moisture in your attic, even if it just feels damp inside, you should contact a roofing pro right away – you may be able to head off major problems if you catch and treat the problem soon.
Mold and mildew growth inside your attic and on the surface of your roof can pose serious problems. Both of these things indicate a moisture problem, and roofs and moisture don't mix. Check your roof, particularly in shady spots, for signs of mold or mildew. If you notice discoloration or spores, you should get in touch with a roofing expert as soon as you can. Likewise, if there's mold or mildew in your attic, or if you notice stains on your ceiling or walls that could indicate mold or mildew growth, it's time to call an expert to check your roof during a free inspection. We'll let you know what we can do to fix the problem before it becomes more serious.
How Much Does a Roof Inspection Cost?
New View Roofing happily provides free roof inspections. Just call our office and let us know when we should come check out your roof and examine it for damage. We'll send an expert inspector to your home, and if he or she finds any damage, you'll get a detailed report on the spot. We'll also tell you about your options for fixing your roof so you can head off a complete roof replacement.
How Much Does a New Roof Cost?
Although we wish there was a simple answer to this question, there are too many variables to give you a solid figure on how much a new roof costs. What we can tell you is that:
Your roofing materials will play a huge role in the cost of your new roof. For example, slate tiles are more expensive than asphalt shingles; that means you'll spend more depending on what materials you choose. Remember, too, that roofs cover your entire home – and even if individual tiles don't seem to cost a lot, you'll need a lot of them to cover your roof.
The extent of the damage to your roof will be a big factor in your total cost. If you need to replace part of your roof, or if you only need shingles rather than a complete tear-off and rebuild, you'll spend less money than you would if you needed a complete roof replacement.
We guarantee our work and can ensure that you'll be satisfied with the finished project, no matter your budget. Our experts will work with you to choose the right materials and complete the work quickly and efficiently. It's our job to maintain our sterling reputation as the most reliable, affordable and trustworthy roofing contractors in Dallas, and we take that responsibility very seriously.
Benefits of Hiring an Expert for Wind Damage Roof Repairs
New View Roofing is a locally-owned and operated roofing and home improvement company that services over 1,000 residential roofs annually. Our roof repair process starts with a free inspection. After we assess the wind damage, we'll come up with a viable solution to restore your residential or commercial property. We can also assist with the insurance claim process and ensure you get the best possible value.
Why We're the Trusted Choice
When you hire New View Roofing for a roofing project, you can rest assured that we have the knowledge base, high standards and skillset to handle any roofing task. Our partnerships with top-tier manufacturers allow us to install the best products the roofing industry has to offer. As a GAF Master Elite® Certified roofing contractor, we have completed extensive training to achieve this status and continuously strive to meet the demands of our growing clientele. We're committed to open lines of communication, careful workmanship and personable customer care.
How Do Wind Damage Roof Insurance Claims Work?
Roof Inspection — A certified New View Roofing manager will inspect your roof for storm damage.
File a Claim — The project manager will contact the insurance company with you to report a new claim.
Adjuster Meeting — Your insurance company will send an adjuster to your property to confirm the damage. Your New View Roofing manager will be there to ensure you are properly represented. It is our goal to work with the adjuster to confirm all damages are covered on the insurance claim.
Review Paperwork and Sign Agreement — Once you receive the insurance paperwork, your project manager will review the items to ensure everything is included and provide an agreement of the work to be completed.
Claim Revision — New View Roofing will review all line items on the Insurance Statement of Loss Paperwork. Throughout the process, New View Roofing will send additional invoices to the insurance company for reimbursement for repairs needed to provide you with the best quality product.
Roof Installation — Your New View Roofing manager will coordinate with you to schedule your new roof installation, and will complete all work on the property loss worksheet for the amount your insurance company allows.
We are dedicated to providing exceptional customer satisfaction, and this process allows you to sit back, relax and let our professionals handle the work.
Call Our Roof Repair Experts
After a storm hits your home, it can be overwhelming to know where to start with the restoration process. New View Roofing offers services in wind and storm damage repair to restore your property and protect it from future damage.
You can also fill out our online form or call us at 469-232-7220 and one of our friendly representatives will respond to you with 24 hours.