Sheet metal roofing is becoming a popular choice for commercial roofing thanks to its durability, energy efficiency and long life expectancy. New View Roofing specializes in sheet metal that's custom-fabricated to meet the requirements of your commercial property, and we can add roof coping or caps to help protect your building.
What is Roof Coping?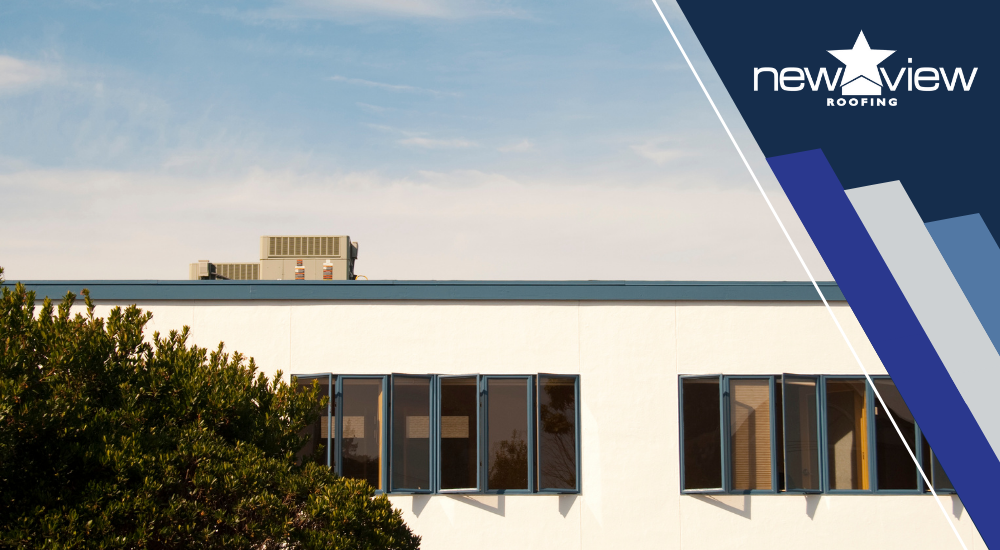 The term roof coping (sometimes called wall coping) refers to pieces of bent sheet metal that make a continuous cap that covers the vertical wall around the roof. Coping provides an extra layer of protection against the elements. The coping is like a protective cover, and it's usually curved or slanted to help the wall shed water that falls on it. You might also hear coping referred to as a wall cap, wall cover or coping cap.
Is Metal Roof Coping Necessary?
Custom-fabricated metal roof coping can help protect your roof. It's important to remember that sheet metal is chemical-resistant, can withstand high temperatures and stands up to difficult weather conditions.
Is it Easy to Install Roof Coping?
The right installers can custom-fabricate sheet metal just for your roof – and that makes installation much easier (as well as more affordable for you).
Why Do Some Walls Need Coping?
A coping can prevent water from entering a wall – and if your roof isn't doing the job, the coping will. If water gets into your building's walls, it can lead to all kinds of costly problems. Coping can look good, too, which means it's not only protecting your space; it can add to its aesthetics, as well.
The main reason to install coping is to protect your walls from water incursion. One of the main problems that occurs when water gets into a masonry wall, for example, is called efflorescence. Efflorescence is a whitish discoloration on the outside of a wall, and it happens when water runs through brick and leaves behind deposits of natural salts.
However, a far more serious problem than efflorescence is the expansion of water when it freezes. Water in masonry, like anywhere else, expands when temperatures dip below freezing. That expansion can crack the masonry itself or its joints. That deteriorates the wall's structural integrity, and that can pose a hazard to the entire building (and everything in it). Water in wood can be even worse, causing mold and mildew build-up, wood rot and more.
How to Tell if Your Building Needs Wall Coping
The simplest (and fastest) way to find out whether your building needs wall coping is to call New View Roofing and schedule a free roof inspection with one of our professional inspectors. Each member of our team is highly trained in working with industrial and commercial roofs, and we'll be able to let you know whether your roof is in great shape, it needs a little work, or it needs to be replaced. We'll examine every inch of your building's roof to make sure it's structurally sound – and we'll examine the parapet walls to ensure that there's no water getting in.
Between inspections, you can tell whether your building needs coping by checking for signs of water damage inside and outside. You may see discoloration, wood rot, peeling or blistering paint, or mold and mildew growth, or you might see crumbling brick or other warning signs. If you notice any of these things, it's important that you get in touch with a roofing expert who's familiar with coping – that may be the fix you need to prevent further structural damage to your building.
What is Snap-On Metal Coping?
Snap-on metal coping is an option on some jobs, though it's not right for every building. These snap-on pieces are applied right to a flat parapet wall, and they typically come with a concealed fastening system. If you're considering snap-on metal coping, talk to your local roof installation experts – New View Roofing. We'll talk to you about your options and help you make the right choice based on your needs and budget.
What is Wall Capping?
Capping is used to cap the top of a parapet wall or free-standing wall, and it's very similar to coping. The main idea is that something is on top of your wall to help it shed water. Unlike coping, though, a cap sits flush to the wall – it doesn't project outward like coping does.
Don't Wait Until Damage Gets Worse.
The Best Roof Coping Installation Company
Durable Against the Elements – We offer sheet metal that is custom-fabricated for each application, which ensures it is built to meet the requirements and withstand the elements unique to the location of your facility. Sheet metal is resistant to chemicals, high temperatures and harsh Texas weather conditions.
Compatible With Your Roof Components – Custom sheet metal will fit your roof's form, including its specific shape and size. It also provides compatibility with existing hardware and other components of your roof.
Efficient Installation Process – Since we're able to optimize the design of sheet metal for each particular job, it's possible to make the roof replacement process more effective and efficient. It's our goal at New View Roofing to provide a hassle-free process for you every step of the way. This includes minimizing disruption of your daily routine.
Metal is the ideal coping material in many cases, though you may have more options. The best way to find out what's right for your commercial building is to talk to an experienced roofing contractor for advice. Your contractor can outline your options and give you quotes for each of them so you can make the most informed decision possible.
Quality Roof Coping Services
We're proud to provide durable, long-lasting solutions for industrial and commercial roofing systems across the North Dallas-Fort Worth, TX, area. When it comes time for roof repairs, our highly trained team will examine every inch of your roof to make sure we don't miss a thing. And if you need a complete roof replacement, we'll help you find the right material and specialized treatment options for your building.
If you need to talk to an expert about roof coping or installing a new metal roof on your industrial or commercial building, let us know. Our team has decades of combined experience, and there's a good chance we've already worked with your friends and neighbors in Dallas and the surrounding communities.
While you're here, take a moment to claim your free annual roof inspection. Our team can send an inspector to check out your roof, evaluate any issues it has, and provide you with a quote on the spot. We can also help you pick the right materials and design for a new roof, or we can make repairs to your existing roof. New View Roofing is here to help – so call today.