Your Little Elm Storm Damage & Roof Replacement Experts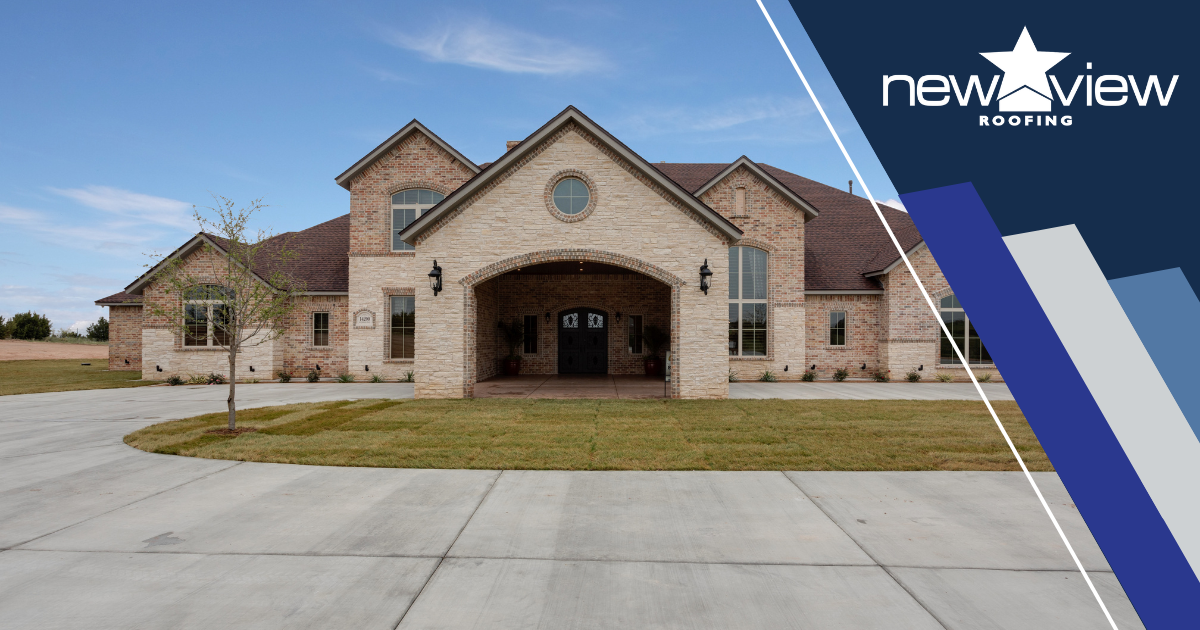 New View Roofing is your one-stop shop for roof repairs and roof replacement in Little Elm, Texas. Our team of experienced professionals can evaluate your roof's condition and make the repairs necessary to ensure that it's doing its job to protect your home.
When Should You Repair or Replace Your Roof in Little Elm?
It's important to keep your roof in good shape to protect your home from the elements. However, there comes a time when repairs are no longer enough and it's time to consider replacement. Here are some factors to consider when making the decision to repair or replace your roof:
Your roof's age
The extent of damage
Whether you have existing leaks
Most asphalt roofs only last between 20 and 30 years. Some other roofing materials, such as metal, tile and slate, last much longer, but the bottom line is that when your roof "ages out," it's time to get it replaced.
Damage is typically the primary reason people contact roofing contractors in Little Elm, though. Check out these five key signs that your roof is damaged and that it may need to be repaired or replaced:
Your shingles are cracked, broken or missing
You find shingle granules in your gutters or around your home
You have leaks inside your home
Your energy bills are going up, even when your usage isn't
Your attic is too hot or too cold
Here's a closer look at each.
Sign #1 That Your Roof is Damaged: Your Shingles Are Cracked, Broken or Missing
The first sign that your roof is damaged is usually pretty obvious – you see missing, cracked or broken shingles. Shingle damage can be caused by a number of things, from severe weather to old age. If the damage is extensive, it may be time to repair replace your roof.
You should walk around the exterior of your home to check for shingle issues. (And if you have a tile roof, look for cracks, broken edges and missing pieces, as well.) We only recommend that you get on a ladder to get a closer look if it's absolutely necessary, and our Little Elm roofing experts never recommend climbing on a roof without the proper safety gear and training.
Sign #2 That Your Roof is Damaged: You Find Shingle Granules in Your Gutters or Around Your Home
Another sign that your roof is damaged and may need to be repaired or replaced is the presence of shingle granules around your home, especially in your gutters. Shingle granules are the small, pebble-like pieces that make up the top layer of your shingles.
If you're seeing an abundance of granules in your gutters after a storm, it's likely because the wind has dislodged them from the shingles on your roof. This can leave your shingles vulnerable to further damage and may shorten their lifespan. If this is the case, our Little Elm roofers can make the repairs necessary to keep your roof in good shape.
Pro Tip: Check the area around your downspouts for shingle granules, too. Sometimes they wash away from the gutters in heavy rains.
Sign #3 That Your Roof is Damaged: You Have Leaks Inside Your Home
Leaks are perhaps the most obvious sign that your roof is damaged and needs to be fixed. If you have leaks in your home, it's important to have them repaired as soon as possible to avoid further damage.
Leaks can be caused by a number of things, from missing shingles to cracks in your roof's surface. If you're not sure what's causing the leaks, our Little Elm roofers can help you troubleshoot the problem and make the repairs necessary to keep your home dry.
Sign #4 That Your Roof is Damaged: Your Energy Bills Are Going Up, Even When Your Usage Isn't
If you've noticed that your energy bills have been increasing, even though your usage hasn't changed, it could be a sign that your roof is damaged. A damaged roof can cause your home to lose heat in the winter and cool air in the summer, making your HVAC system work overtime to maintain a comfortable temperature.
If you think your roof is to blame for your high energy bills, our Little Elm roofers can inspect your roof and make the necessary repairs. We may also recommend installing energy-efficient insulation to further reduce your energy costs.
Sign #5 That Your Roof is Damaged: Your Attic Is Too Hot or Too Cold
If you have an attic, pay close attention to the temperature in that space. If it's too hot in the summer or too cold in the winter, it could be a sign that your roof is damaged and needs to be repaired. Your attic should have a bit of a temperature fluctuation from the rest of your home, but with a good ventilation system, proper insulation and good-quality roofing materials, the difference shouldn't be staggering.
Request A Free Roof Inspection With Our Local Project Manager!
Other Available Repair Services
A roof isn't the only exterior component that requires repair after a storm. Windows, doors, siding and gutters also need to be addressed to keep small issues from turning into major problems. The challenge is in getting all needs addressed at once, so you don't have to deal with multiple contractors and crews, resulting in unnecessary stress and hassle.
When you need a one-stop shop for many exterior improvements for your home or business, there's only one company to call: New View Roofing. We understand that when you're looking for a roofing company, you also might need to have new gutters and gutter guards installed. Damaged siding may need to be repaired, and while that is being done, it would be a good time to have cracked windows replaced. New View has an entire team of experienced home renovation contractors to help you with all this and more. Check out the other services we offer in the following sections.
Windows
From window replacement to new construction windows, New View can successfully complete window projects of any size. We have access to many types of windows and can deliver quality, craftsmanship and long-term performance. We also offer glass and screen repair and can replace window beading.
Siding
Exterior siding protects your home from the elements while adding beauty and value to its exterior. It makes sense to invest in the best products, which is what you'll find at New View Roofing. We can help you find the best match for your home and budget, and also offer siding repair in the case of storm damage.
Gutters
Our crews install seamless gutters, downspouts and gutter guards, and can perform gutter repairs. We custom-craft each gutter installation on-site using a roll form machine, which means your new gutters will fit your structure perfectly.
Fencing
Trust New View to install a high-quality, beautiful fence in your choice of material. We also offer pressure washing and staining, and repairs to boards.
Do You Need to Talk to the Best Roofing Contractors in Little Elm?
New View Roofing Offers free roof inspections in Little Elm, so if you suspect that your roof is damaged, or if it's been more than a year since you've had a professional on your roof, give us a call. We'll be happy to schedule a time that works with your busy schedule; We'll send out a professional roof inspector who will take a look at every component of your roofing materials to make sure everything is in proper working order. If our inspector discovers something wrong with your roof, they'll provide you with all the information you need to make the right decision for your home or business.
Helpful Links
Request Your Free Roof Inspection by one of our Little Elm Roofing Experts today!