If you're like most people, you know that you need to clean your gutters from time to time – but that might be the extent of your knowledge. Although that's okay, you do need to know that as the Dallas – Fort Worth area's premier gutter specialists, New View Roofing can help you with all your gutter repair and replacement needs.
All About Residential Gutters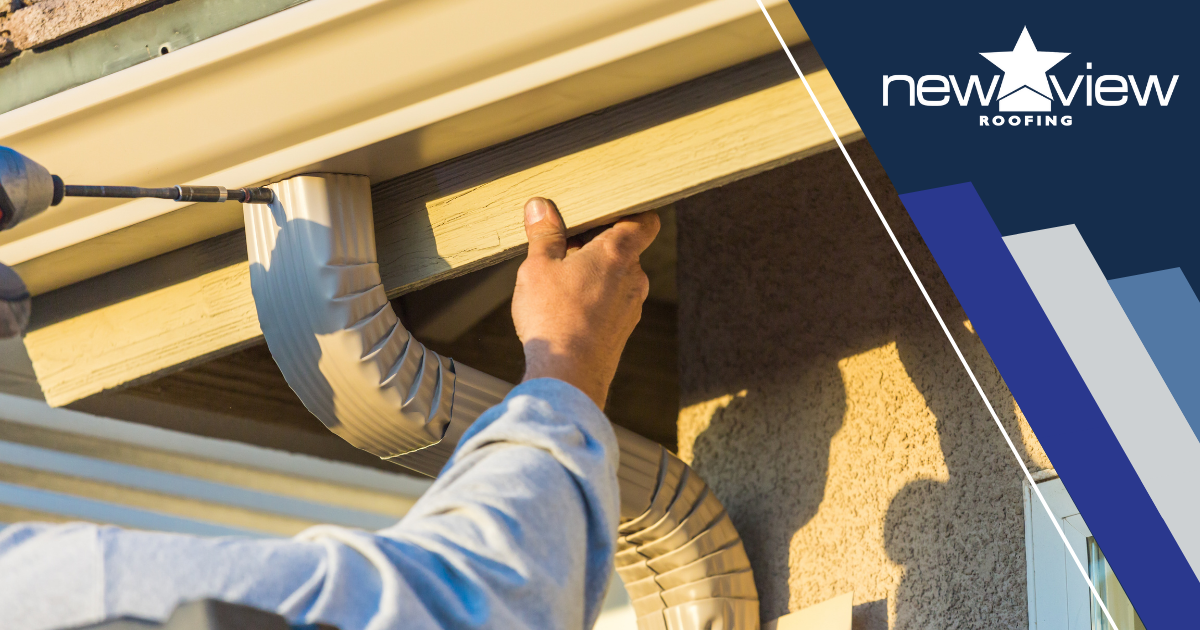 A gutter system is a series of tubes or pipes that carry rainwater and snowmelt from your roof to a safe location away from your home's foundation. Gutters are essential to your home's structural integrity because they whisk away water that could damage the home's foundation. They do more than that, though – they also help prevent pooling water, pathways of flowing water that could kill your lawn and soil erosion around the outside of your home.
Your gutters are supposed to remain clear so they can do their jobs, which means it's absolutely essential that you clean them periodically. Clogged gutters cause water to overflow; they also cause problems by weighing down your fascia (the boards behind the gutters) and your other roofing materials. If water backs up in your gutters and sits in damp debris against your house, water can make its way into your roofing materials and lead to bigger problems, like leaks, mold growth and even irreparable roof damage.
You should clean your gutters at least twice a year, and when you do so, inspect them for damage that could prevent them from working properly. If you have trees overhanging your roof, you need to clean and inspect them more often. Additionally, you need to clean and inspect your gutters after a major storm blows through.
Sometimes, especially after a hailstorm, you may need to replace your gutters. This gives you an opportunity to try a fresh new look for your home! Find out what types and materials you can choose for your gutter replacement.
Don't Wait Until Damage Gets Worse.
Types of Gutters 
New View Roofing offers two basic gutter types: K-style and half-round. Both come in five- and six-inch widths and are professionally installed by our experienced gutter specialists.
K-style gutters come in many styles. They typically have flat bottoms and backs to fit seamlessly along the roof edge. The front side of the gutter often has a decorative shape that resembles crown molding.
Half-round gutters are half-round tubes that are usually found on older, historic homes. We can design this style to match your home's existing exterior.
Gutter Materials 
Gutters are more than just for show; they are an integral part of a properly functioning roofing system. As such, gutters must be made from a material that will last. Our metal selection includes:
Seamless aluminum. Seamless aluminum gutters are made on-site to fit a home. This eliminates seams and reduces the chance of leakage.
This material is strong, durable and known for its longevity. Steel gutters can be easily painted to match any exterior.
The benefits of copper are that it won't rust, and it doesn't require paint. Its exceptional beauty can be seen on high-end residences and historic restorations.
How Do You Know if Your Gutters Are Damaged? 
Gutters clog from time to time – it happens. However, it's up to you to remove the clogs as soon as you discover them. If you don't, your gutters could become irreparably damaged and need to be replaced. So how do you know if your gutters are damaged? Walk around your home and visually inspect them to look for:
Birds or pests inside the gutters or on your roof
Water spilling over the sides of your gutters when it's raining
Sagging
Stains on the side of your home
Plant growth in the gutters
Here's a closer look at each.
Sign #1 of Gutter Damage: Birds or Pests Inside the Gutters or On Your Roof 
You may notice birds or pests scurrying around inside your gutters, or you may notice them congregating on your roof and collecting nesting materials. If you notice any living creatures hanging around your gutters, check the gutters for clogs and visually inspect them for damage.
Sign #2 of Gutter Damage: Water Spilling Over the Sides of Your Gutters When it's Raining
Water should stay in your gutters, which are angled toward your downspouts. However, if water overflows, your gutters may be clogged – and the obstruction can force water into your roofing materials or into the ground around your home. That can lead to basement flooding or a cracked foundation.
Sign #3 of Gutter Damage: Sagging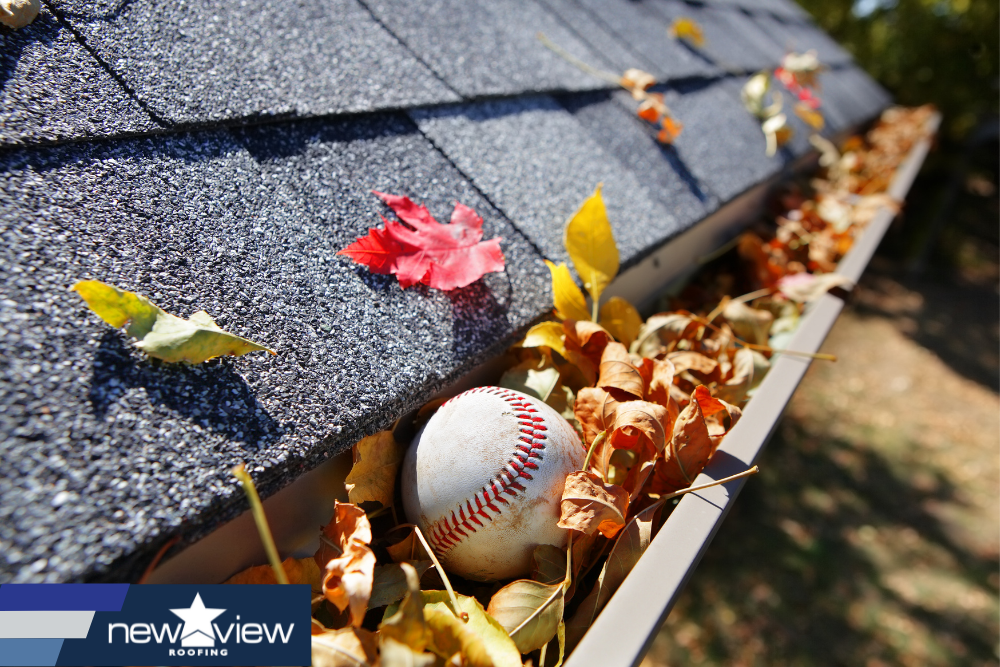 If your gutters are sagging, or if they're pulling away from your home, there may be heavy debris in them. Debris such as wet leaves, shingle granules, pine needles and other materials can cause your gutters to sag and prevent them from carrying water away from your home. Eventually, that extra weight will pull the gutters from their fasteners and your entire gutter system will fail.
Sign #4 of Gutter Damage: Stains on the Side of Your Home
Stains on the side of your home can be a sign that your gutters aren't working properly. Stagnant rainwater or snowmelt can end up rusting your gutters or worse, soaking into the fascia (the boards behind your gutters) and exposing your roofing materials to water.
Sign #5 of Gutter Damage: Plant Growth in Your Gutters
You may see sprouting plants in your gutters – and although it may be cute at first, it's actually a serious problem. You need to clean your gutters so they're free from dirt and debris, or you could end up getting more than you bargained for.
Should You Replace Your Entire Gutter System or Make Repairs? 
If you have minor damage to your gutters, you may be able to repair them – but if the damage is severe, or if they're sagging and pulling away from your house, it may be time for a complete gutter system replacement.
Common Questions About Gutters 
Check out these commonly asked questions about gutters, and if you don't see the answer to your question here, please feel free to call our office and speak with an expert. We'll give you the guidance you need to make the right choices about your gutter system.
How Much Does it Cost to Put Gutters on a House? 
The cost of every gutter project depends on two main factors: The materials you choose and the size of your home. The more materials you need, the more costly your gutter replacement will be. Generally speaking:
Vinyl gutters cost between $3 and $5 per linear foot
Aluminum gutters cost between $6 and $12 per linear foot
Steel gutters cost between $10 and $20 per linear foot
Copper gutters cost between $25 and $40 per linear foot
What's the Worst That Could Happen if Your Gutters Fail? 
The worst that could happen if your gutters fail is that the water from your roof floods the ground, cracks your foundation or floods your basement, and leads to mold growth in your home. However, you can avoid those risks by maintaining your gutters and replacing them when they fail.
How Often Should You Clean Your Gutters? 
You should clean your gutters at least twice a year – in the spring and the fall. You should also clean them after a major storm, because they can easily catch blowing debris.
What Should You Do if Your Gutters Are Slightly Damaged? 
If your gutters are slightly damaged, you may be able to fix them yourself. However, if they're not angled properly, they're sagging, or they're pulling away from your house, you may need to contact a professional to repair them.
Is it Okay if Your Gutters Pull Out From Your House? 
It's not good for your gutters to pull away from your house. If they do, they're not in the optimal position to catch rainwater and snowmelt – and that means some water will drop to the ground near your home's foundation.
Do You Need to Talk to an Expert About Your Home's Gutter System? 
If you need to talk to an expert about your home's gutter system, whether you need repairs or replacement, we're here to help. Our team of experts can answer all your questions and help you choose the right gutter system for your home, and we'll provide you with a customized quote so you know what to expect. New View Roofing works quickly and efficiently to help you protect your home, whether you need roofing services or help with your home's gutter system.
Need help finding the right gutters for your roof? We are here to help. We have 25 years of experience in the industry and can assist you in finding the right gutter style and material for your home. Call  (469) 232-7220 to learn more about our gutter installation services.