Commercial Roofing Services in Dallas, TX
We care about your commercial property and the state of its roof. 
At New View Roofing, we understand that the condition of your facility's roof contributes to the success of your business. 
That's why we offer a variety of commercial roofing products from trusted manufacturers to ensure your roof is sturdy, energy-efficient, and able to withstand the elements and protect your operations.
Types of Roofing Materials That Are Best for Commercial Buildings
Built-up roofing membrane
Metal roofing
Modified bitumen roofing
Thermoset (EPDM) roof membranes
PVC
TPO
Here's a closer look at each.
Built-Up Roofing (BUR) Membrane for Commercial Buildings
Also known as tar and gravel roofing, built-up roofing is installed by alternating layers of tar or asphalt and industrial fabric on the roof.
The final layer of a built-up system typically consists of gravel or stones. Built-up roofs are low-maintenance and incredibly waterproof since they don't result in joints or seams that are vulnerable to leakage.
Built-up roofing, or BUR, comprises several layers (called piles), which makes it an ideal choice for extra protection. This flexible commercial roofing material is one of the most cost-effective, durable and reliable available.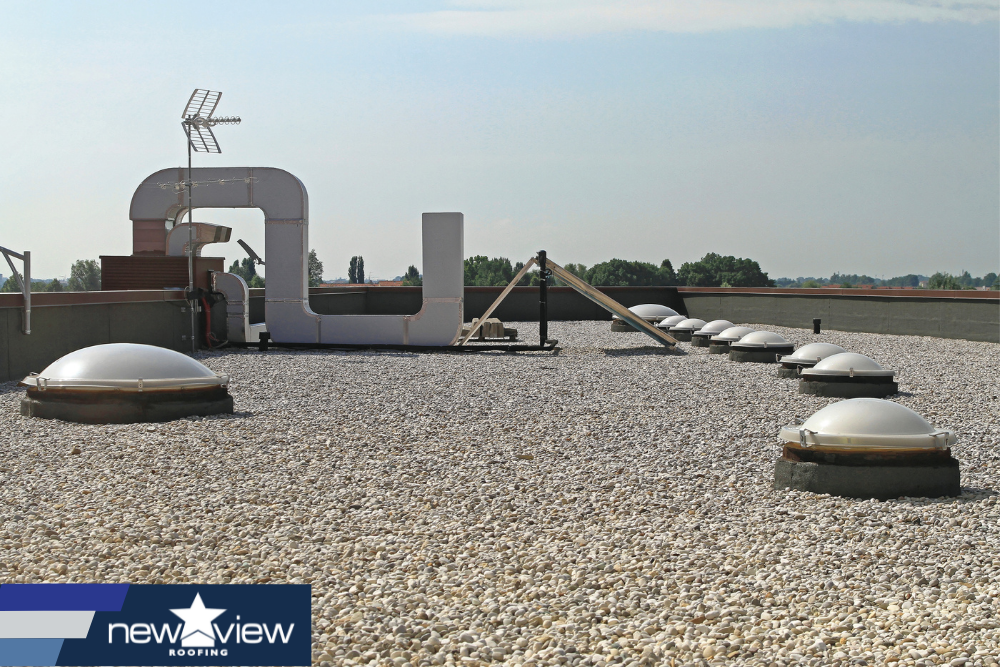 Metal roofing is durable, energy efficient and fire-resistant. New View Roofing offers custom sheet metal application to fit your commercial facility specifically. For added protection, we also specialize in commercial and industrial roof coatings and waterproofing to protect a metal roof against rust, UV rays and other elements.
When you choose a metal roof, you have several options, including:
Aggregates of zinc, aluminum and silicon-coated steel
Aluminum
Copper
Corrugated galvanized steel
Lead
Metal tile sheets
Stainless steel
Stone-coated steel
Tin
Naturally, some of these metals are much heavier than others are – and they each have their own pros and cons. If you're considering a metal roof on your commercial building, you should talk to an expert about your project to figure out what type of material is right for you.
Some people choose metal roofing on commercial buildings because it's attractive, easy to maintain (particularly when coated with protective surface layers that help prevent rust), and incredibly fire-resistant. It's also stronger and more durable than many other types of commercial roofing materials.
Modified Bitumen Roofing on Commercial Buildings
One of the most common types of commercial roofing materials is modified bitumen. This type of roofing infuses bitumen with reinforced roof fabrics, and when dry, the material is cut and installed in layers. Modified bitumen roofing is generally fastened as a two-ply system (meaning it has two layers), and it's adhered completely to the roof deck to keep it stable.
Many people choose modified bitumen commercial roofing systems because this type of roof is easy to maintain. As long as you're getting your roof inspected each year and cleaning it as necessary, a modified bitumen roof can last for several years. These roofs also offer enhanced tensile strength, particularly when compared with most other flat roof types – and you can walk on them without worrying about cracks and other types of damage.
Thermoset (EPDM) Commercial Roof Membranes
Thermoset roofing, also known as EPDM, is an exceptionally durable, synthetic rubber material. Generally, these roofs are black or white and come in a wide range of thicknesses and widths. Because it's so durable, EPDM commercial roofing is one of the most popular materials in use today.
EPDM commercial roofing tends to last the longest out of all commercial roof materials, offering a service life of 25 to 30 years. It's light, flexible, and resistant to wind, ultraviolet rays, hail, thermal shock and extreme temperatures. EPDM can also resist some acids, solvents and alcohol, and it features reflective properties that can help lower your cooling costs during warm months.
Polyvinyl chloride roofing materials – commonly called PVC – is a lightweight solution that can provide your commercial roof with ample protection.
It's reflective and resistant to UV light and most chemicals (including oils and animal fats, which makes it a good choice for restaurants and food plants). It's also highly resistant to fire and high winds, and it can handle high temperatures.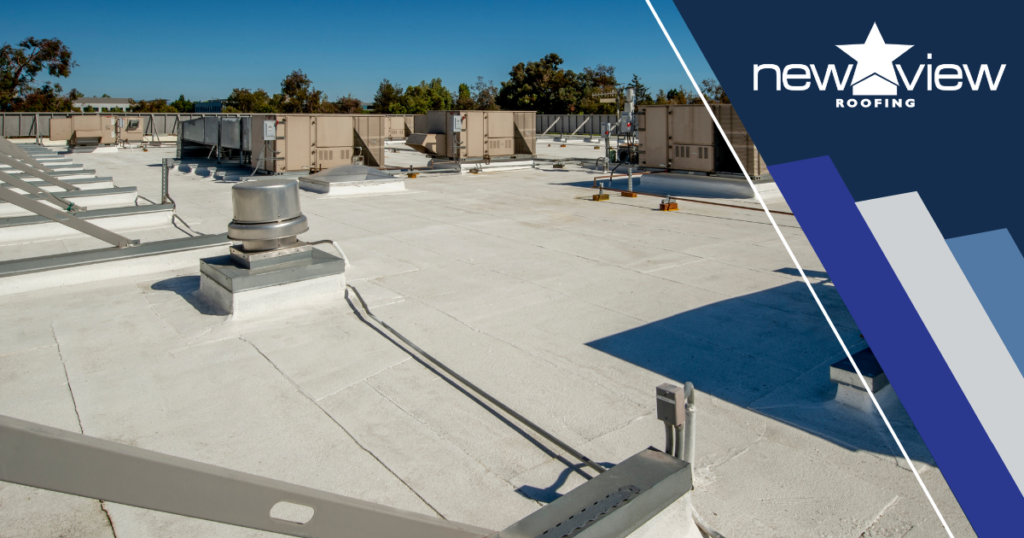 Regular roof maintenance can extend the lifespan of your roof and save money on a premature replacement. As a trusted Dallas roof repair contractor, New View Roofing will give you peace of mind that your home is protected.
TPO is made from thermoplastic polyolefin, and like its plastic cousin, PVC, provides superior protection to commercial buildings.
It's resistant to UV rays, chemicals, and even bacterial growth. It has a high temperature tolerance, is fire resistant, and is even self-extinguishing when a source of heat or fire is removed.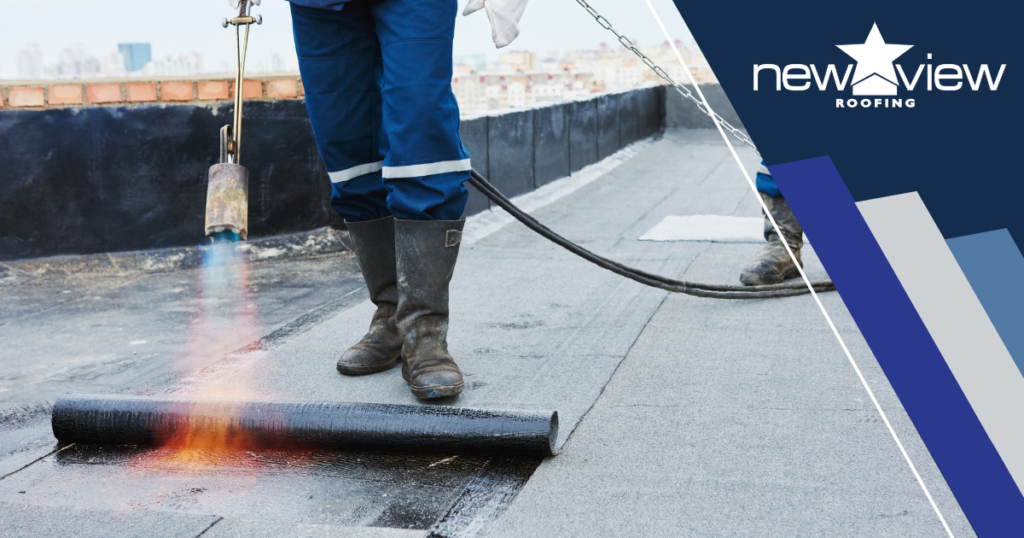 Spray polyurethane foam is a form of plastic that quickly turns from a liquid into a solid, and in some – but not all – commercial buildings, it's the right choice for roofing. It's sustainable and can help lower energy costs, it has exceptional tensile strength, and protects against UV rays. A properly installed SPF roof may last for several decades.
Often used on buildings with low-slope roofs, asphalt rolled roofing uses the same materials used to make the asphalt shingles you may have on your home. This is one of the least-expensive roofing materials you can find for a commercial building, and it's relatively simple to install. The main drawback to this type of roofing is its lifespan – these types of roofs may last only 10 to 15 years before they need to be replaced.
Although acrylic roof coatings aren't widely recognized as a complete roofing system, they're often used to put off roof replacement for some time. Acrylic roof coatings are UV resistant and very reflective, which means they may help you keep utility costs down. They're also relatively easy to maintain, and they can often resist hail, rain and wind damage.
A Word on Single-Ply Roofing Membranes
Single-ply membranes are one of the most popular commercial and industrial roofing materials for flat roofs. This type of roofing consists of sheets of rubber or other synthetics that are chemically adhered or otherwise fastened to create a layer of durable, energy-efficient protection for your new roof.
TPO and PVC are both single-ply membranes that have adhered seams. However, there are some differences. TPO and PVC roofing have different chemical formulas that result in slightly different performances and service lives, but both are excellent materials to protect your commercial building's roof.
How to Decide Which Type of Commercial Roofing Materials Are Right for You
First things first: You don't have to decide which type of roofing materials are right for your building just yet. In fact, you should absolutely talk to a commercial roofing expert before you try to make a decision – some commercial roofing materials may not even work with your building, or they may not be the right choice based on your building's function or style. It's a good idea to talk to a roofing contractor who can lay out all your options and explain what's available before you decide.
After your roofing expert explains your options, you can make your decision based on:
Some commercial roofing materials cost far less – or far more – than others do.
Other nearby buildings. It's worth finding out what types of roofing materials other buildings in the area have, especially if you want to see how well a particular material might stand the test of time. Additionally, it may be about aesthetics; if you have the only restaurant or store on the block with one type of roof and every other restaurant or store has something else, yours may look out of place.
Size and slope. Your commercial building's roof's size and slope will help you determine what materials are right for your needs. Some types of materials can't be applied to a sloped roof, while others don't make any sense on a flat roof.
What's Better: EPDM, TPO or PVC?
If you're trying to decide between EPDM, TPO and PVC commercial roofing materials, the best thing you can do is get in touch with a commercial roofing expert at New View Roofing. Our team can answer all your questions, explain the benefits and costs of each material, and help you make the right decision for your building.
We'll lay out your options in a clear, easy to understand way so that you know exactly how each commercial roofing material could benefit your business – and we'll even give you a quote on the labor and materials when you decide what's best for your needs.
Do You Need to Talk to a Commercial Roofing Expert?
If you need to discuss your needs with a commercial roofing expert, call our office today. We'll be happy to answer all your questions and give you the guidance you need to choose the right commercial roofing materials for your space.
Trusted Commercial Roofing Services Throughout North Dallas, TX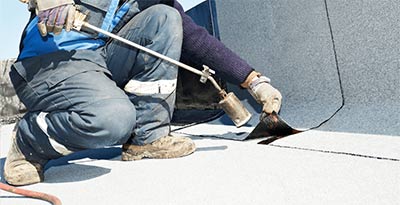 As a locally-owned and -operated roofing company, New View Roofing understands best the local climate and local businesses' need for a sturdy, reliable and efficient roof. We're dedicated to providing high-quality commercial and industrial roofing systems to business owners throughout the North Dallas-Fort Worth area 
We provide the following commercial roofing services:
Commercial Roof Replacement
New View Roofing has over 10 years of experience installing low-slope (flat) roofing. Our roofing contractors are highly trained in the industry's latest installation techniques and practices. We're respectful of your schedule and show up to every job site on time, while ensuring minimal impact on your daily operations.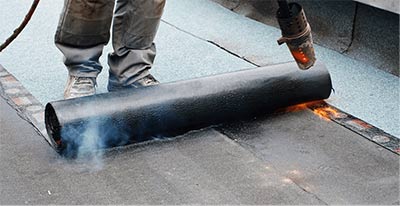 Roof Repair
Natural wear and tear can take a toll on your roof over time. Small defects can turn into larger issues if they're not addressed or repaired properly. Because of our advanced training, our team specializes in leak detection and preventative waterproofing measures to treat leaks before they worsen and stop new ones from forming. We recommend scheduling a roof repair inspection to avoid additional damage to your roof's surfacing layer, insulation and building materials, or the facility itself.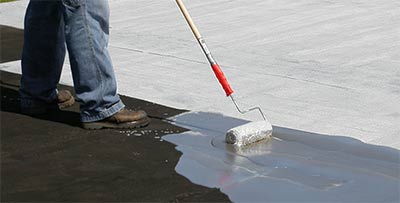 Roof Coatings
Investing in a coating restoration system is a cost-efficient way to extend the lifespan of your commercial roof. Roof coatings will give your roof new life without a complex and expensive roof replacement. Coatings especially help with leak stoppage on flat or low-slope buildings.
Schedule Your Commercial Roof Inspection
New View Roofing is recognized for our successful business practices, high-quality installation and outstanding customer satisfaction. To learn more about our commercial and industrial roofing services, call (469) 232-7220 or fill out our contact form to schedule a free estimate