Professional Shingle Repair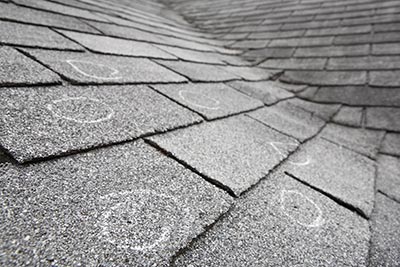 Looking at the damage to your property after a storm has passed can be unsettling. Luckily, New View Roofing is an expert when it comes to the storm damage repair process. Our experienced roofing contractors will be on-site quickly to identify the damage and work with your insurance adjuster directly. When you hire us, you can enjoy a hassle-free process from start to finish during the roof restoration process.
Top Rated Shingle Repair Contractor
Benefits Of Hiring Shingle Repair Specialist
Hailstones fall thousands of feet from the sky and can easily dent, bruise, crack or smash through roofing components and siding. It can be difficult for the untrained eye to detect hail damage. Our trained professionals will carefully check for any signs of hail damage after a storm event.
Wind Damage
High winds can lift and break the adhesive seal underneath shingles. If wind-blown debris enters the shingle layer during the storm and prevents the shingle from re-sealing, then the shingle requires repair. We provide wind damage inspections to identify these problems before they allow water intrusion.
Fallen Debris
Tree branches and other large objects picked up in a storm can fall on your roof, causing destructive impact damage. One of our certified roofing contractors will remove the debris and make a plan to restore your roof.
Storm Damage Checklist
After a storm has safely passed, assess your roof for storm damage by walking around the perimeter of your property. Look for any obvious signs of damage such as missing, cracked or lifted shingles.
Check for dents in your gutters and cracks in windows.
Inspect for fallen tree limbs, broken fences and damage to landscaping.
Keep an eye out for leaks and water spots inside your home, especially in the attic and on the ceilings of upper rooms.
Turn to New View Roofing, Your Storm Damage Repair Specialist
Turn to New View Roofing when a storm has caused damage to your home. Protecting your property is our biggest priority, and our goal is to make the roof restoration process as easy as possible. Call us at (469) 232-7220 or fill out our contact form to request a free inspection.