Hail Damage Roofing Services
If you're like most people, you know that your roof is your home's first line of defense against the elements – it protects your home's structure and everything inside from sun and harmful ultraviolet rays, rain, wind and especially hail. But after a storm, there's a chance that your roof is damaged. Hailstones can cause irreparable damage to your property.
The sooner you address and treat these issues, the better. After the storm has passed, it's important that you call New View Roofing for a free roof inspection. Our experts can come to your home and look for signs of hail damage that could put your house at risk and treat any affected areas accordingly. You can rest assured that we will restore your roof efficiently and professionally.
The best, and safest, way for your to check your roof after a hail storm is with a visual inspection. You can usually do this by walking around the perimeter of your home. If anything seems out of place or looks as if it's sagging, there may be a problem. We recommend you go into your attic to check for signs of internal damage, as well.
Signs of Roof Hail Damage From a Roof Repair Company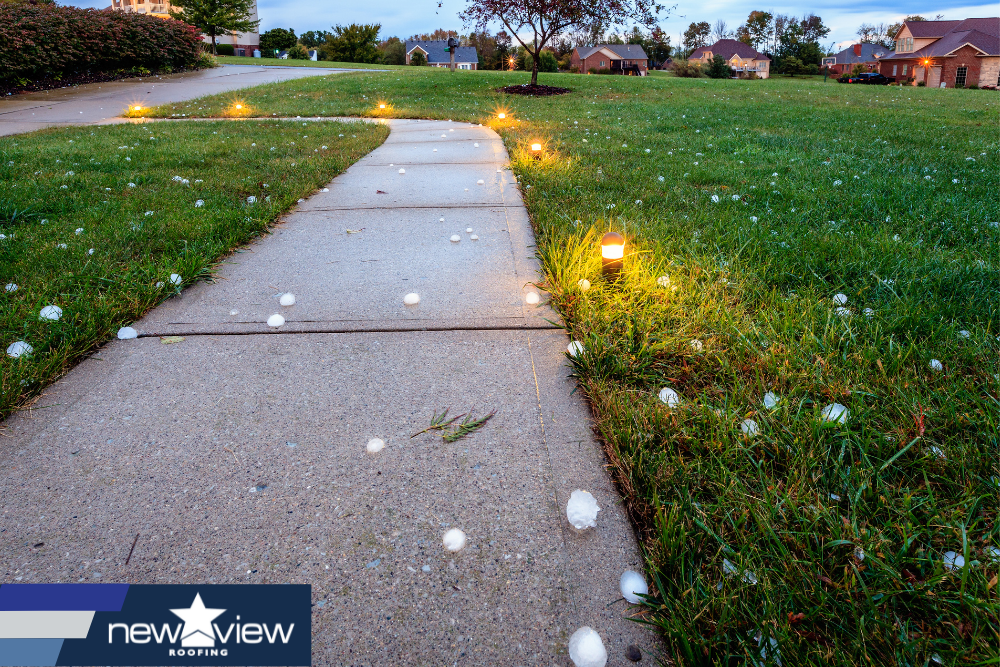 Don't climb up on your roof after a hailstorm. For safety reasons, it's best that you keep both feet on the ground. Our trained professionals can examine your roof using safety gear while taking the proper precautions.
Although we don't recommend it, if you can get on your roof safely (and the roof isn't slippery or it has a low enough slope), it may be a good idea to examine your own shingles. However, it's always best to have a professional climb on your roof; we have safety gear and have been walking on roofing materials for years.
While you're checking out your attic, look for signs that the rafters are sagging or that the wood may be rotting; if any of the wood looks or feels soft, you may have a big problem that you need to address immediately. Soft wood is in danger of rotting (if it's not already doing so), and that can lead to an entire roof collapse – and that can be catastrophic.
Not all roof damage after a hailstorm is as obvious as sagging or soft feeling wood. Here are a few other things to look for after a hailstorm.
Dented metal components – After the high impact of hailstones, certain metal components of a roof – such as gutters, flashing and downspouts – will be left with dents.
You should walk around your home and visually inspect your gutters and downspouts. If there are dents or anything is sagging, bulging or overflowing, get a ladder and have a look – or, if you're more safety-minded, call us and we'll do it for you. It's really important that you handle gutter and downspout problems right away so they don't cause major issues down the road.
Bald spots – When hailstones hit a roof, they can dislodge and loosen the ceramic granules that protect asphalt shingles. This will result in noticeable "bald spots" on the roof. The granules will then collect in gutters and downspouts.
The bottom line is that granular loss can be a huge problem. Age is the most common reason that shingle granules come loose from shingles, but there are several other factors that can contribute. Even heavy rain and strong wins can break shingle granules loose – and hail certainly can. The bigger the hail is, the more likely it is to damage your shingles. Even a minor impact, if it hits the right way, can knock granules off your roof. Another issue storms can pose is from flying debris or waving tree branches; if branches hit your roof, they can easily scrape shingle granules right off.
In addition to scraping off shingle granules, the debris that flies around during a storm (even a seemingly minor storm) can cause impact damage on your roof, denting shingles, scratching them and lifting them. If you see any debris sitting on your roof, remove it if possible; if not, take some photos that you can share with your roofing inspector. Your roof inspector will remove the debris and examine the whole roof for signs of damage it may have caused.
Fractured shingles – During a storm, hailstones can hit the asphalt shingle mat so hard it results in cracks. When water enters these gaps, it will seep into the underlayment and cause severe leaks. If you notice any of these signs, it's important to contact the hail damage restoration specialists at New View Roofing right away. We'll treat existing damage and take preventative measures to ensure your home is protected before the next storm hits.
Debris on your roof- Impact damage is serious; if something hits your roof hard enough, it can knock shingles off. At the very least, it can knock your shingle granules loose. Those granules help your roof shed water, so if they're missing, your roof can't provide your home with the level of protection it did before the storm. So we'll check each shingle to make sure there are no bald spots. If there's damage that needs to be repaired, we'll let you know how quickly it needs to be done and how long the project will take.
Regular roof maintenance can extend the lifespan of your roof and save money on a premature replacement. As a trusted Dallas roof repair contractor, New View Roofing will give you peace of mind that your home is protected.
Asphalt Shingles: Protection from Hail
There are three main types of asphalt shingles: 3-tab, dimensional and luxury. Each has its own distinct appearance, and each provides varying levels of protection. Some shingles hold up to hail and stormy weather better than others do. Here's a quick run-down:
3-tab shingles are the most affordable type, and they're fairly durable. However, out of all the asphalt shingle types, they may provide the lowest level of hail and storm damage protection for your home. They're economical because they're made from layers (sometimes a single layer and sometimes more) of fiberglass base mat coated with mineral granules. The thicker your 3-tab shingles are, the more protection they provide against hail and stormy weather. Blow-off is a serious threat to these types of shingles; that's what happens when they're aging or poorly installed and gusts of wind catch them, and the gust rips them away from your roof. A missing shingle can't provide any protection, so this kind of problem needs to be addressed immediately.
Dimensional shingles are, price-wise, somewhere between 3-tab shingles and luxury shingles. Often, they provide a middle-of-the-road level of protection, as well. These shingles are also called laminated or architectural shingles, and they feature two layers of shingles bonded together. The bottom layer remains exposed and, during the manufacturing process, notches are removed from it; that creates a dimensional look that some homeowners love. According to the Asphalt Roofing Manufacturers Association, or ARMA, dimensional shingles are the most popular in use today – and that makes sense, because they're both economical and attractive. However, they may not provide a significant amount of extra protection for your roof during hail storms and wind storms. Like other types of asphalt shingles, they're subject to impact damage that can knock off granules, as well as wind damage that can cause them to lift up or blow off your roof entirely.
Luxury shingles are the most expensive of the bunch, and when they come from most manufacturers, they come with the most comprehensive warranties and highest levels of protection out of all asphalt shingles. These shingles are made to look like natural materials – such as cedar or slate – at just a fraction of the cost of the "real deal." They weigh quite a bit more than standard 3-tab shingles do, which means they're a little more durable and rugged (and less likely to blow off during windy conditions). They can also stand up to impact damage better, such as what occurs during a Texas hail storm. However, because these shingles are heavier (and more expensive) than other types of asphalt shingles, they're not the perfect choice for every home. We do often recommend these shingles in hail-prone regions like ours, though, because they're tougher than other types are.
Professional Hail Damage Roof Repair Services
New View Roofing is a full-service roof restoration company that specializes in roof replacement, roof repair and more. In addition to hail damage, we also address storm and wind damage to residential and commercial roofing properties. We're dedicated to providing high-quality services that restore your roof back to its pre-loss condition or better.
We know what to look for, including dents, scratches, missing granules and lifted edges, as well as missing shingles, so our team will be able to tell you whether your roof has been damaged and what, if anything, needs to be repaired immediately.
How to Submit a Hail Damage Roof Insurance Claim
Roof Inspection — A certified New View Roofing manager will inspect your roof for storm damage.
File a Claim — The project manager will contact the insurance company with you to report a new claim.
Adjuster Meeting — Your insurance company will send an adjuster to your property to confirm the damage. Your New View Roofing manager will be there to ensure you are properly represented. It is our goal to work with the adjuster to confirm all damages are covered on the insurance claim.
Review Paperwork and Sign Agreement — Once you receive the insurance paperwork, your project manager will review the items to ensure everything is included and provide an agreement of the work to be completed.
Claim Revision — New View Roofing will review all line items on the Insurance Statement of Loss Paperwork. Throughout the process, New View Roofing will send additional invoices to the insurance company for reimbursement for repairs needed to provide you with the best quality product.
Roof Installation — Your New View Roofing manager will coordinate with you to schedule your new roof installation, and will complete all work on the property loss worksheet for the amount your insurance company allows.
We are dedicated to providing exceptional customer satisfaction, and this process allows you to sit back, relax and let our professionals handle the work.
Schedule Your Free Roof Inspection Today!
If your property has suffered hail damage, be sure to address the issues right away before they worsen over time. A professional from New View Roofing will be on-site within 24 hours of your request and will walk around your roof looking for any signs of hail damage, including bald spots or missing shingles.