We're Your Roofing Experts in Plano, TX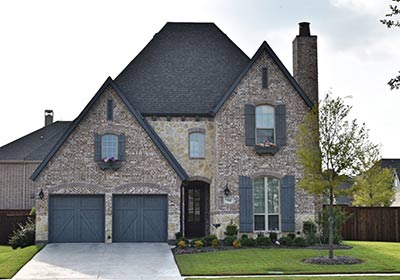 Storm damage can be devastating. If you've ever experienced the expense and stress of replacing a roof after a storm, you certainly don't want to risk another replacement down the road. At New View Roofing , our Plano roofing contractors provide careful roof repairs and full replacements using a proven inspection and installation process.
The care we take during the process is what makes our roof solutions last longer than others. This means your roofing system will be more durable, protecting your home and family for years longer than roofs installed according to ordinary standards.
Not Sure If Your Roof Has Been Damaged? Get an Inspection
It's a good idea to call New View Roofing after any major weather event. Our roofing contractors can find issues that are not apparent to the untrained eye, as well as spot common problems that shorten a roof's life. Our complete roof inspection includes:
Check for loose shingles.
Inspect seals on shingles to help prevent wind damage.
Check to see if shingles are curled, brittle or deteriorated.
Inspect roof for missing shingle granules.
Inspect fasten method used from original installation.
Inspect all pipe flashings for cracks.
Inspect flashings at all walls.
Inspect all storm collars at pipes for proper seal.
Check gutters and downspouts for blockage.
Inspect attic insulation for proper R-Value.
Interior attic inspection for moisture or dry rot.
Inspect all attic vents for holes or cracks.
Measure for and calculate proper attic ventilation.
Inspect attic intake vents for blockage.
Inspect all rubber boots at top of pipes for dry rot.
Proper shingle overhangs at gutters and eaves.
Inspect all valleys for cracks and deterioration.
Contact New View Roofing Today
New View wants to be your Plano roofing team. For more information about our services or to schedule a free estimate, submit our online request form or call us at (469) 232-7220 today.