Dependable Commercial & Industrial Roof Replacements​
For over a decade, New View Roofing has been installing low-slope and flat roofing on commercial and industrial properties across the North Dallas – Fort Worth, Texas, area. Because of the Texas heat, energy efficiency is our top priority. We provide high-quality installations and expertise in TPO, PVC, coatings and asphalt roofing systems.
If you need a new roof on your commercial building, New View Roofing is here for you.
When is it Time for a New Commercial Roof Replacement?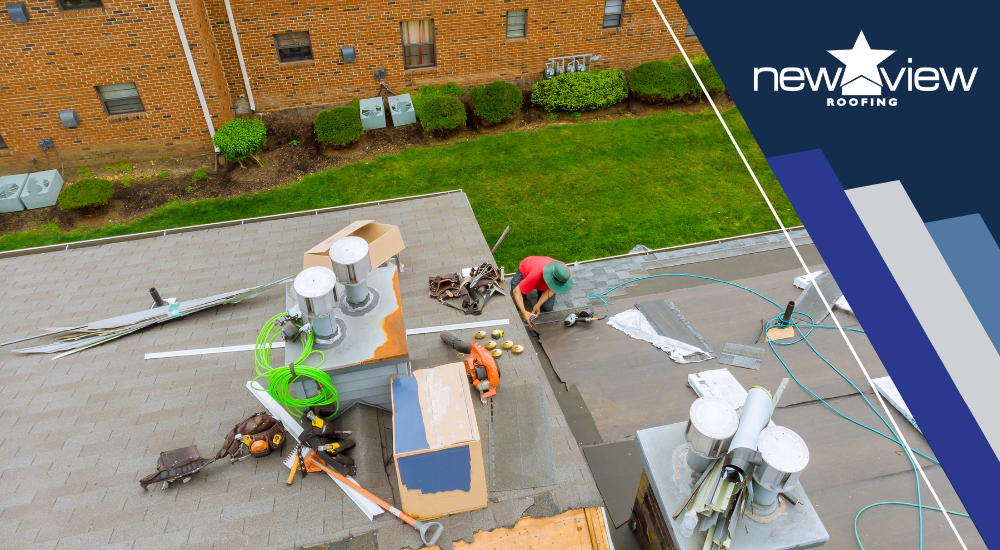 If you notice chronic leaks, a spike in the cost of your energy bills, or if it's been over 25 years since your last roof replacement, it's time for a new roof. New View Roofing and our team of qualified contractors is equipped with the latest techniques and state-of-the-art equipment to install your commercial roof. We'll work diligently to complete your project on time and cause minimal disturbance to your day-to-day operations.
Signs That Your Commercial Roof is Failing
Sometimes it's enough to make repairs on a commercial roof – especially if problems are discovered early. If you can make repairs as soon as you discover an issue, you may be able to put off the inconvenience – and the cost – of installing a completely new roof on your building. However, sometimes the damage is just too severe, or the roof is past its normal lifespan and the materials are beginning to fail. In those cases, it's necessary to replace your commercial roof.
However, you can rest assured that New View Roofing will find you the most cost-effective solution, make expert recommendations to help you through the process, and perform all the work as quickly and efficiently as possible. It's our mission to ensure that you're completely satisfied with your new commercial roof installation, and we'll do what it takes; we always do. That's why we've built up a sterling reputation as the Dallas – Fort Worth area's premier commercial roofing contractors.
We're always happy to send our inspectors to check out commercial roof systems in Dallas and all the surrounding communities. In fact, there's a good chance that you have friends, colleagues and neighbors who have used our services before. Our team has decades of combined experience, and we've worked all over the DFW Metroplex over the past several years.
The following signs can tip you off that it's time for a new commercial roof – or that you at least need to bring in a professional inspector to check things out for you:
Damaged shingles. If your commercial roof has shingles, you should periodically check them for signs of curling, breaking or balding. (A bald shingle is one that's lost some or all of its protective granules, which help the roof shed water and snowmelt.) You should also look for missing shingles. Shingles are your roof's first line of defense against the elements, so they need to be in top condition to prevent damage to the underlayment and other roofing materials – and to prevent water from getting inside your commercial building.
Tears in surfaces. Roofing materials can tear when they're damaged or old, whether you're looking at a metal roof or one made from PVC or another material. If your roof has tears in it, that means there are ways for water to get inside your building. Water-related roof problems never get better on their own, and they certainly don't just go away. Water incursion is a serious issue that you should have addressed by a professional immediately.
Missing or damaged flashing. Flashing is the material around things that protrude from your roof, such as vents, chimneys, skylights and other items. The flashing is there to prevent water from getting into the cracks, but if it's damaged or missing, it can't do its job. That means you'll need a professional to check for water damage and signs of flashing failure.
Metal roofing materials can corrode over time, particularly when fasteners are exposed to the elements. A corroded roof can't protect your commercial building like it's designed to, which means water or pests could get in – and the materials beneath your roof (including the underlayment, roof deck and insulation) are all at risk.
Loose or missing fasteners. Holes from fasteners can let water get into your commercial building. If you catch the problem early, you may be able to have a commercial roof repair contractor do a few quick fixes. However, if you don't notice that fasteners are loose or missing on your commercial roof, or if it's been too long since the problem arose, you may end up needing a complete commercial roof replacement.
Bent, warped or loose metal sheets. The metal sheets on your commercial building are strong, but circumstances arise that can weaken them – such as bending, warping or coming loose. These issues mean that the metal sheets need to be replaced. In some cases, it's possible to replace just a few sheets; in others, the whole roof needs to be replaced.
Don't Wait Until Damage Gets Worse.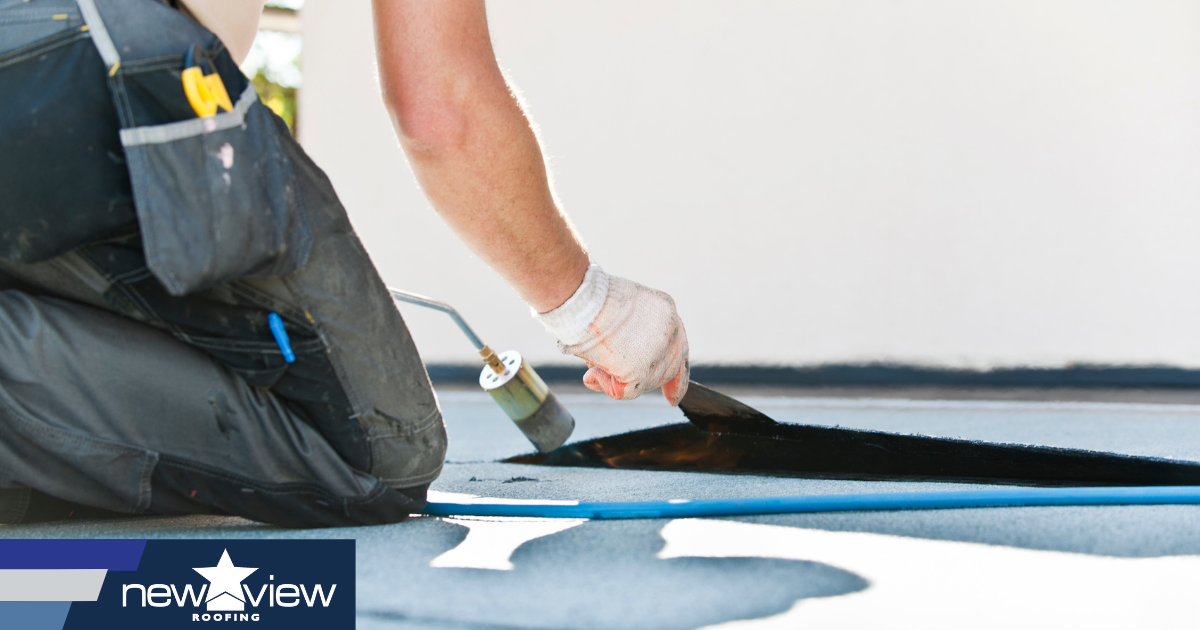 How Do You Know if You Should Repair or Replace Your Roof?
Many people would rather repair their commercial roofs than replace them, and it's easy to see why. Repairs are faster and more economical. But unfortunately, some roofing materials are too far gone to repair – and sometimes the damage is too severe for a simple fix.
The best way to determine whether you should simply repair your commercial roof or you need to replace it completely is to consult with an expert inspector from New View Roofing. We help our customers save money, and we'll tell you if you can get by with repairs. We'll also tell you if your roof is too badly damaged or too old to continue protecting your building.
The key to making repairs is catching issues early, before they become catastrophic problems. For example, a few missing shingles or a couple of missing fasteners are a quick, easy fix. Our team can be in and out in no time, and your roof will continue protecting your commercial building for the rest of its lifespan (or until another issue arises, such as storm damage). However, if there has already been significant damage – such as water damage – we may need to replace your commercial roof.
Why Commercial Roof Replacement is So Urgent
Whether you have customers and clients visiting your location every day or you're housing all your business's assets under one roof, commercial roof replacement is urgent. When an inspector tells you that you need a new roof, it's because you do – and everything (and everyone) in your building could be at risk. Water damage, tears in roofing materials, pest infestations and other roof problems can cause you to lose your entire inventory. Even worse, an old roof that isn't functioning properly or that has become too damaged to perform can be a fire and electrocution hazard.
Tailored Industrial Roofing Solutions
The team at New View has extensive training in industrial roof replacement services. 
We take into consideration things such as the Texas climate and weather conditions, durable roofing materials, and any future needs your property will face. We also consider your budget and needs, as well as your vision of the way your commercial roof should look. Our team will put together a comprehensive plan to replace your commercial roof that meets all your needs, and we'll work around your schedule to get the job done in as little time as possible. It's our goal to provide you with the best possible service and ensure that you're completely satisfied with the materials you've chosen, as well as the work we've performed.
Storm Damage Experts
Texas storms can be brutal. Whether your roof was damaged by hail, high winds, lightning or anything else, our team can fix it or replace it. We're known as the local storm damage experts for a reason, and we can help you get back on track after a storm. Additionally, when you're filing an insurance claim for your commercial or industrial property, we will work with your insurance provider directly to ensure you get a comparable roof replacement system. We will help you get the most value for your claim!
Do You Need to Talk to the Experts About Commercial Roof Replacement?
If your roof has been damaged, or if it's too old to provide maximum protection for your commercial building, we can help. Our team of expert roofers can handle your entire commercial roof replacement job, from hauling in materials, tearing off the old roof, installing a new one and hauling out the waste. Call our office today to speak to a roofing expert about commercial roof replacement – we'll answer all your questions.
As a locally-owned and -operated company, we at New View Roofing understand the importance of a sturdy and efficient roof. We want to provide the same for other businesses in the area. Contact New View Roofing for a free inspection of your industrial or commercial roof and we'll talk with you about your best roof replacement options.