PVC Roofing Installation in Dallas
PVC is a reliable and long-lasting membrane suitable for varying single-ply commercial roofing systems. New View Roofing is partnered with industry-leading roofing manufacturers, such as GAF, to bring you high-quality products and expert installation. We can help in a variety of commercial roofing systems, including PVC single-ply roofing membranes, TPO roofing, asphalt roofing, and more.
What is PVC Roofing? 
PVC roofing materials are made from polyvinyl chloride. In simple terms, that's plastic – and in many cases, it's the perfect material to protect a commercial building. PVC is a single-ply roofing material, which means you only need one layer of the material (on top of your other roofing materials, of course) to protect your building.
This single-ply roofing is made from a lower percentage of oil and petroleum than its counterparts, TPO and EPDM are, so many people choose it because of its eco-friendliness. It's also considered a cool roof membrane because it reflects sunlight and helps maintain stable temperatures indoors, and it carries an ENERGY STAR® rating.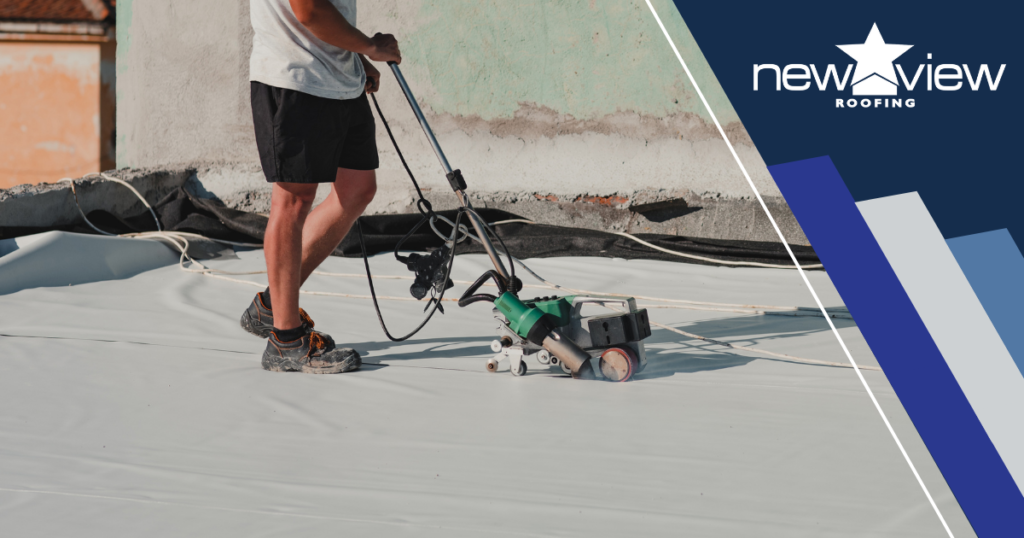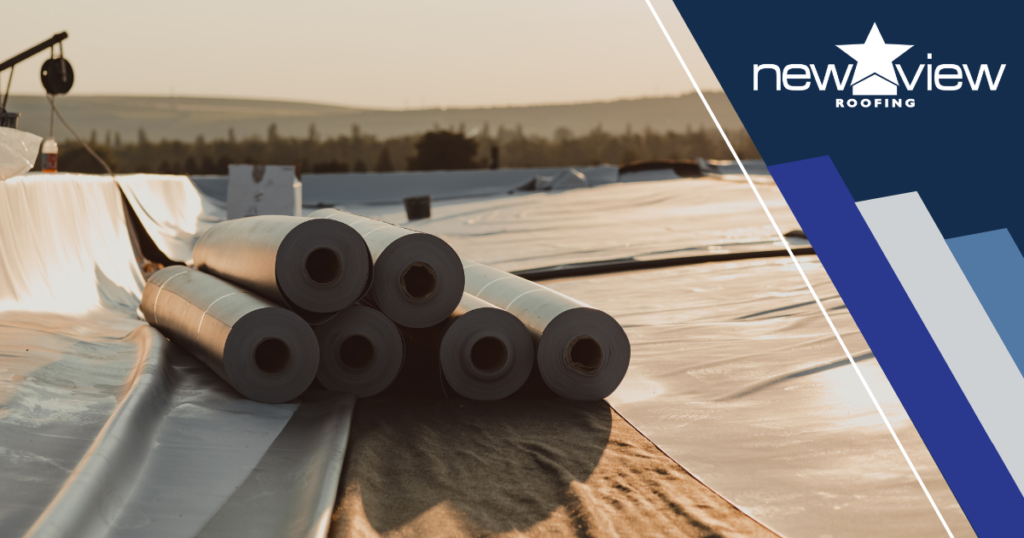 Why Choose PVC Roofing? 
PVC is a very strong roofing material. It's installed with heat welding on the seams, which allows it to expand and contract with a building during the natural settling process and over time. PVC can also be sealed with solvent welding and attached to metal and other components, and your roofing contractor will help determine what's best on your building.
A PVC roof can offer protection against water leaks, ultraviolet radiation, fire and chemicals, which means it's ideal in many commercial and industrial applications. Because it's relatively low-maintenance, it may be the right choice for your building.
What Buildings Should Have PVC Roofing?
PVC roofing materials are very popular with restaurants and other businesses that emit fats and oils through ventilation systems. That's because this type of roof can resist the negative effects of these things while other types of roofing materials would quickly degrade under the same conditions.
Buildings in shady spots that make them prone to algae growth, as well as those in areas that are prone to debris buildup on roofing are good candidates for PVC roofing, as well. It's flexible and resistant to impact damage, as well as resistant to punctures and tearing from blunt forces, which means it's an ideal choice for many businesses.
Environmental Considerations With PVC Roofing 
Because PVC roofing is reflective and creates a cooling effect, it's a little bit similar to having an additional layer of insulation. PVC roofing can help reduce your air conditioning costs and help make your entire system more energy efficient, as well.
PVC Roofing Benefits 
PVC, which is short for polyvinyl chloride, is a thermoplastic single-ply roofing membrane that has heat-welded seams. It is considered a "cool" roofing material and can save you money on energy bills. It's very similar to TPO roofing, with the main differences between the two materials being in their chemical formulas. Both are designed to conform to the movement of the roof. However, PVC has better chemical resistance and tends to be more flexible than TPO (although TPO roofing tends to be the more affordable option of the two and may offer better thermal expansion properties).
If you're not sure what type of roofing materials are right for your building, you should speak with the experts at New View Roofing. Our team can evaluate your project, including the size of your building, your current or projected energy costs, what types of materials your roof may be subjected to, and a wide range of other factors to help you make the right choice. We'll discuss your budget, your needs and your goals to make sure you're getting the right type of roof for your needs.
PVC Roofing Installation
PVC is a reliable and long-lasting membrane suitable for varying single-ply commercial roofing systems. PVC is known for its:
Durability
Long service life
Resistance to chemicals, fire and wind
Eco-friendly properties
New View Roofing has access to many superior commercial roofing products that are celebrated for their high quality and durability. If you're trying to decide between a TPO or PVC single-ply roofing membrane for your commercial roof, our team of experts will help you make an informed decision.
Don't Wait Until Damage Gets Worse.
PVC Roof FAQ
Check out these frequently asked questions about PVC roofing materials, and if you don't see the answers to your own questions here, please feel free to call our office and ask.
How Much Does a PVC Roof Cost?
The cost of a PVC roof depends on several factors, including the size of the building and the materials you choose to use beneath the single-ply membrane. Generally, a professionally installed PVC roof ranges between $6 and $10 per square foot, but every project is different. The best way to find out how much a PVC roof will cost you is to get a professional estimate that takes into account all the factors associated with your project.
Is PVC Roofing Any Good?
PVC roofing is generally low-maintenance, and it has great resistance to chemicals, fats and oils. For many businesses, PVC roofing is the right choice because it's lightweight and durable, lasts around 25 years (but longer with proper maintenance and care), and is heat-welded at the seams to help prevent leaks.
Is a PVC Roof Durable?
A PVC roof is incredibly durable – in fact, it's one of the most durable materials you can use on a flat roof system. It's heat-welded at the seams and can last for several years without leaking, cracking or aging out. A good quality PVC roof that's been properly installed may last for 25 years – and sometimes longer, as long as you maintain it regularly.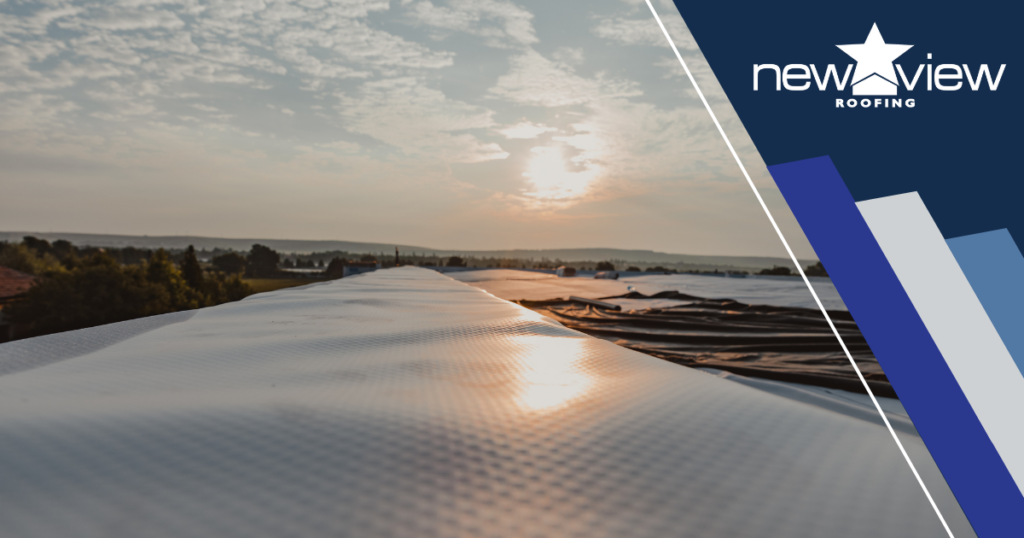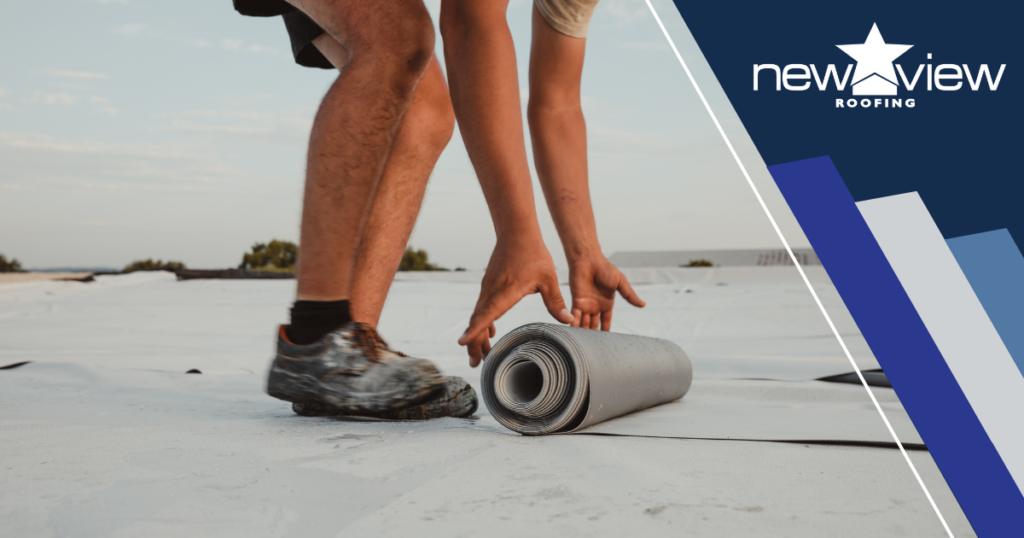 What About PVC and Asphalt Combination Roofs?
PVC and asphalt don't mix, so although some roof materials are eventually coated in asphalt, that doesn't work with this type. If you want to use asphalt roofing materials with PVC, the two will have to be in separate areas. However, there are other types of roofing materials that are compatible with asphalt, and your New View Roofing professional can help determine the right solution for your roof.
Can You Walk on PVC Roof?
You can walk on a PVC roof as long as the decking beneath it is strong enough to hold up a person's weight. Although you may have heard the myth that walking on a PVC roof can cause spiderweb cracking, that's not true – unless the roof is improperly supported.
Is PVC Roofing Fire-Resistant?
PVC roofing is fire resistant, and it contains fire retardants that make it slow to catch or spread fire. Even better, when the source of heat or flame is removed, PVC roofing materials are self-extinguishing.
Can You Paint a PVC Roof?
It's possible to paint a PVC roof, but remember that darker colors will hold heat, and they may cause problems with the vinyl. If you choose to paint a PVC roof, you should use high-quality latex paint (not oil-based paint). However, we recommend choosing a color you like from the beginning. Generally, PVC roofing materials are white, but you can find them in gray, tan and off-white colors, as well. You should talk to your expert commercial roofing contractor if you're interested in a colored roof.
How Do You Clean a PVC Roof?
It may be necessary to clean your PVC roof from time to time, and fortunately, it's very easy to do. You simply use a soft-bristled, long-handled brush or broom with a cleaning solution that's made with a mild, non-abrasive household detergent and water. You can also contact New View Roofing for roof cleaning and roof maintenance services.
Which is Better: PVC, TPO or EPDM?
Your roofing expert can help you choose between PVC, TPO and EPDM roofing based on your budget, needs and circumstances. Every building is different, so it's best to work with a professional to determine whether PVC, TPO or EPDM is right for you. Each type of roofing material offers its own pros and cons.
Schedule a Consultation About TPO Roofing in Dallas, Fort Worth or a Nearby City Today
Interesting in a PVC roof? We'll work within your budget and on your timeline – and we'll ensure that you get the roof you need to protect your space. Our team will visit your site, discuss various materials that may meet your need, and help you make the right choices. Call (469) 716-5426 or fill out our online contact form to schedule a roof replacement consultation with New View Roofing. We can provide a free inspection within 24 hours of receiving your request.
If you're thinking about installing a PVC roof on your commercial or industrial building, we'll be happy to answer your questions and help you make the right decision.