Residential and Commercial Roofing Services in Rockwall, TX
When you need your roof repaired in Rockwall, Texas – whether it's on your house or your business – New View Roofing is the team to call. We have decades of combined experience in residential and commercial roofing, and we'll be happy to inspect your roof and give you an on-the-spot quote that meets your needs.
Rockwall's Most Trusted Roofing Contractors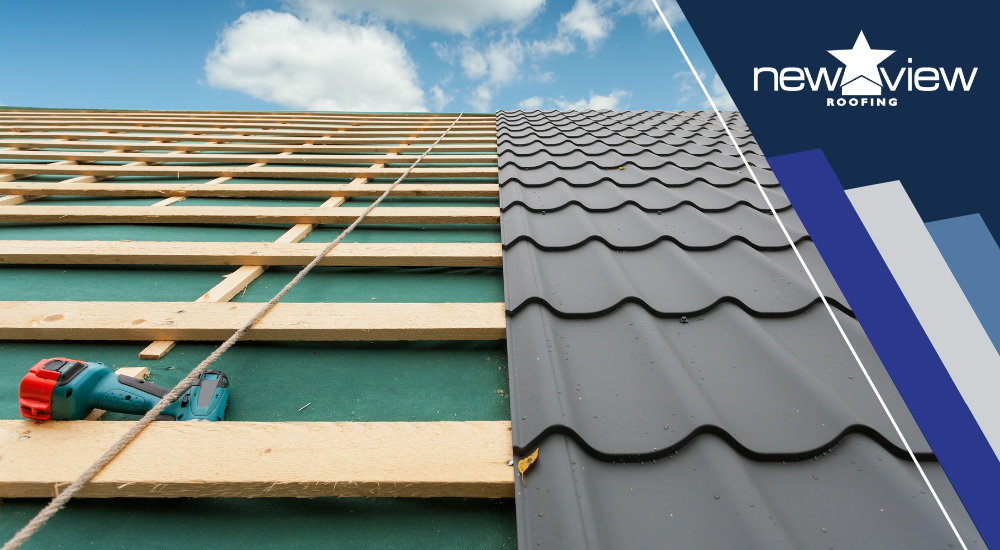 New View Roofing is an award-winning, A+ rated business – and there's a good chance that we've helped your friends and neighbors with roof repairs or roof replacement. Our experienced team has served the Dallas – Fort Worth Metroplex for years, and we offer free annual roof inspections in Rockwall and beyond.
Residential Roof Repair
When your roof is damaged, the best thing you can do is have a professional contractor come look at it. The sooner you can diagnose and repair problems, the better off you'll be – and addressing issues quickly helps you save money. In fact, when you identify residential roof problems and resolve them right away, you'll be able to avoid more extensive damage (and more costly repairs or replacement). 
The bottom line is that roof damage never gets better with time; however, it can turn into a catastrophic problem very quickly. Whether your roof has been damaged by a storm, it's worn down over time, or something else has happened, it's in your best interest to get in touch with a Rockwall roofing contractor as soon as you can.
Residential Roof Replacement
Every roof has a lifespan, and if yours is nearing the end of its life, you'll likely need a complete residential roof replacement. In some cases, our team can place a new roof on top of your existing roof; in others, the existing roof's structure isn't able to support a new one, so we need to tear it off and start fresh. In either case, our team will let you know what will work best. We'll also help you choose the right materials, provide you with a timeline and give you a quote based on the materials you choose.
How Do You Know if Your Home Needs a New Roof?
Most asphalt shingle roofs last between 20 and 30 years. Other roofing materials last longer, such as tile, stone and metal. However, if you have an asphalt roof – by far the most common type in Rockwall – there's a good chance that it's time to replace it if it's more than 20 years old.
A good rule of thumb is to observe when your neighbors, whose houses were built around the same time yours was, start to have their roofs worked on. If you're not sure whether it's time for a new roof, the easiest way to find out is to call New View Roofing's Rockwall experts to get a free inspection; we can send a highly qualified inspector to your home to check things out.
Additionally, here are a few signs that it may be time for you to invest in a new roof:
You notice broken or missing shingles. The shingles on your roof are your home's first line of defense against the elements. They help your roof shed water and protect it from the elements – and that means they also protect everything under your roof. If they're broken or missing, they can't do their jobs properly.
You see "bald spots" on your shingles. Or you find tiny shingle granules in your gutters, near your downspouts or around the perimeter of your roof. Shingle granules are what help keep your roof waterproof, but over time, they begin to fall off. They look like tiny, round grains, and you may find them in your gutters or near downspouts. If your gutters aren't working properly, you may also find them on the ground around your home.
Damaged or missing flashing. Flashing is the material that seals joints in your roof around chimneys, skylights, vents and other things that protrude from it. If the flashing is damaged or missing, it can't seal out water, and that may be a sign that you need a new roof.
Visible leaks inside your house. Water should never leak into your house from the outside – and if it does, the sooner you address the issue, the better. Water leak problems only get worse with time; in fact, they can become exponentially worse very quickly.
Request A Free Roof Inspection Today!
Commercial Roof Repair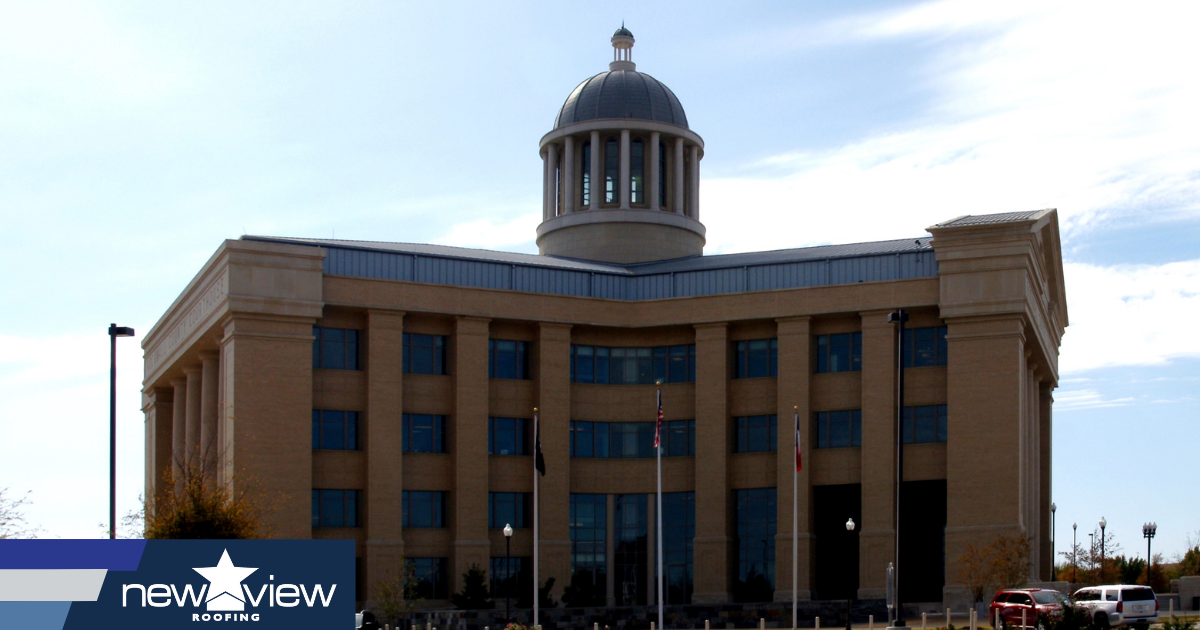 Your commercial roof protects your building and everything in it, from inventory to workers and guests. That means it's in your best interest to take good care of it. Whether you have PVC roofing, TPO roofing or something else, New View Roofing offers free annual roof inspections to people in Rockwall, Texas and the surrounding communities. We can send an expert to your business to climb up on the roof and look for signs of wear and tear, as well as damage. If our inspector discovers any issues, they'll provide you with a detailed report of what's wrong and give you a quote for repairing it on the spot.
We also offer roof maintenance programs for busy business owners who want to get the most from their investments.
Commercial Roof Replacement
As with any other materials, roofing materials have a lifespan. If yours are approaching or have reached the end of their lifespan, it's time to invest in a new roof. Our team can help you choose the right materials for your new commercial roof, whether you want PVC, TPO or something else. Then, we'll let you know how long the project will take to complete, explain how the process will work, and tell you how much a new commercial roof will impact your bottom line. We've been roofing in Rockwall and the surrounding communities for years, and we'll be happy to provide you with a quote today.
How Do You Know if Your Commercial Building Needs a New Roof?
Depending on the type of roofing materials your commercial building has, there are several signs that it may be time for a new roof. First, if your roof is nearing the end of its lifespan, you should have a professional from New View Roofing come to inspect it. The same is true if your roof has been damaged by a storm, high winds, debris or something else. Other than that, you may need to talk to someone about getting roof repairs or a new roof if you notice any of the following signs:
Curling on shingles
Cracks on roofing materials or flashing
Missing shingles
Puncture marks
Splitting at seams
Bubbles under the roofing materials
Leaks inside your building
Do You Need to Talk to a Rockwall Roofing Contractor About Your Residential or Commercial Roof?
If you'd like to take advantage of our free roof inspection, call our office today to schedule a time that works around your busy schedule. We're also here to answer your questions about asphalt, tile, stone, wood, TPO, PVC and all other roofing types, whether you have a residential home, commercial building or industrial building. Our team can answer your questions and help you find the right solution to all your roofing issues.
Helpful Links
Let us be your Denton roofing company. At New View Roofing, we have the experience, skills and equipment necessary to keep your roof performing at a high level.