3-Tab Shingles: Affordability Meets Functionality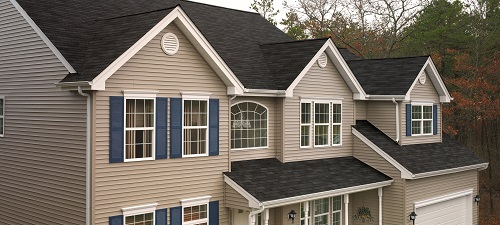 New View Roofing provides multiple shingle types to ensure homeowners have many options to choose from when purchasing a new roof. A popular shingle style used on residential properties is the three-tab shingle.
One-piece, three-tab asphalt shingles are affordable and made from durable fiberglass coated with asphalt and mineral granules. Our knowledgeable team of roofing contractors has years of experience installing this shingle style, so you can rest assured you are receiving quality workmanship from experts in the industry.
Benefits
Three-tab shingles are:
Lightweight.
Designed to withstand the elements.
Expected to have a service life of 20 years or more.
Affordable for homeowners on a budget.
Our Selection
New View Roofing is proud to represent leading shingle manufacturers in the industry such as GAF, Owens Corning, CertainTeed and TAMKO. We offer a variety of style and color options to match your exterior home décor or provide a completely new look. The right shingles can enhance the curb appeal of your home and even increase its property value. Discover more about the brands and designs we offer.
The New View Roofing Promise
At New View Roofing, customer satisfaction is our top priority. When you're planning to purchase a new roof for your home, we ensure a hassle-free process from start to finish. One of our certified roofing contractors will meet with you for an initial consultation to help you choose a shingle option that meets your budget and design needs. We promise that you'll love your new roof and the positive attention it brings to the exterior appeal of your home.
Schedule a Consultation Today!
Want to learn more about three-tab asphalt shingles? A representative from New View Roofing is happy to answer any questions you may have. Schedule your consultation by calling (469) 232-7220 or submit our online contact form. One of our friendly team members will be in touch shortly!