Dependable Commercial and Industrial Roofing Contractors
As a locally-owned and -operated roofing company, New View Roofing best understands the local climate and local businesses' need for a sturdy, reliable and efficient roof. 
We're dedicated to providing high-quality commercial and industrial roofing systems to business owners throughout the North Dallas-Fort Worth area.
We provide the following commercial roofing services:
Your industrial roof is incredibly important – it protects your building and everything in it, including your employees. There are three main types of industrial roofs:
Flat roofs
Low-slope roofs
Pitched roofs
The style you choose has a lot to do with the type of building you have. Your industrial roofing contractor can help you choose the right materials, but in the meantime, here's what you need to know about each roof style.
Flat Roofs on Industrial Buildings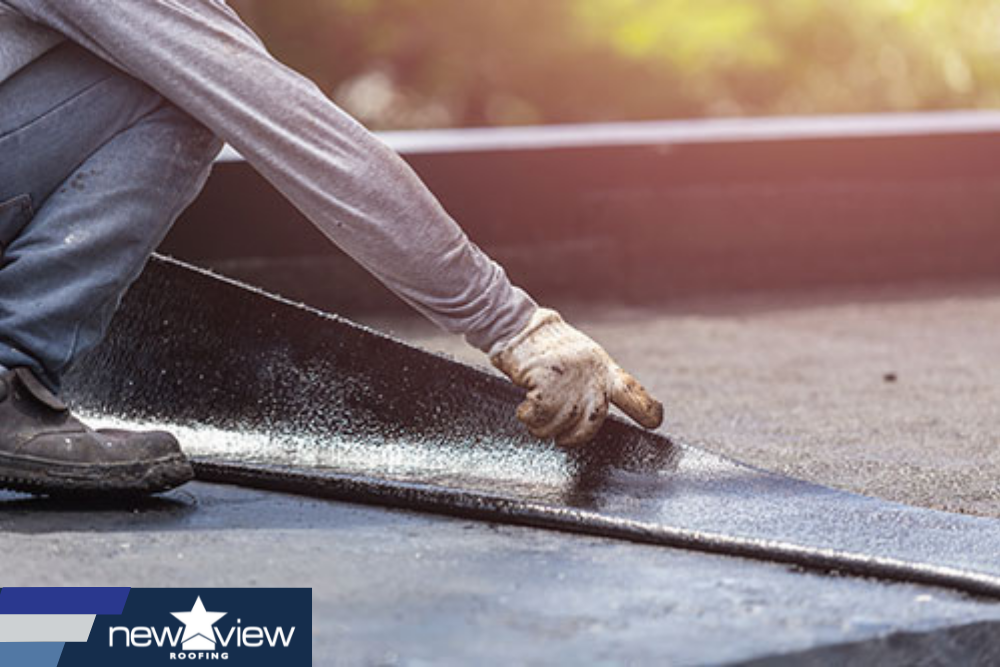 Commercial flat roofs are some of the most common among industrial buildings. They've been iconic in industrial design since the 1920s, and that's partly because they offer building owners several benefits. Many investors and business owners choose flat roofs because:
They're generally easier (and faster) to install than other types of roofs, which means cost savings for the owner
There are a number of roofing materials to choose from so you can find something that's just right for your needs
Some types of flat roofing materials can help reduce energy waste from cooling costs
You can move air conditioning units from the ground to the roof, and solar panels and satellite dishes are easier to install than they would be if you had a pitched (sloped) roof
Maintenance and drain cleaning are generally easier on a flat roof than it is on other types of roof, and they're safer for workers to walk on
There are some drawbacks to flat roofs, too, though, including:
Poor drainage is possible
Material breakdown can lead to leaks inside the building
New View Roofing is recognized for our successful business practices, high-quality installation and outstanding customer satisfaction.
Low-Slope Roofs on Industrial Buildings 
Low-slope roofs – those with a very low angle – are also very popular on commercial and industrial buildings. These types of roofs offer several advantages, as well, such as:
They're easier for workers and maintenance workers to climb on than roofs with steep slopes are
There's ample opportunity for water to run off the roof, and custom roof design can direct water in the appropriate direction with the use of valleys, saddle and drains
Low-slope roofs have less roof area than steep-sloped roofs have, which means cost savings for owners
It's easier to install satellite dishes, air conditioners and solar panels on a low-slope roof than it is on a roof with a sharp, steep angle
Many of the same materials you can use on a flat roof can be used on a low-slope roof
Pitched Roofs on Industrial Buildings 
Pitched roofs are more like what you'd see on a residential home – they're sometimes sloped at steep angles. They're not often used in commercial buildings, but when they are, they're often combined flat and low-slope roofs. There are some significant advantages to using a pitched roof on your commercial building, however, such as:
Pitched roofs provide superior water runoff
They're less likely to suffer under the weight of heavy snow, because as it melts, the snow will simply slide off
There's less risk for water buildup that can lead to mold, or worse, leaks in the roof
Generally, these types of roofs can minimize the amount of water-related damage that's possible with other types of roofs
The downside is that maintenance and repairs are more difficult on a steeply pitched roof. You also can't climb on it yourself to check its condition; you should always rely on a professional to check a pitched roof for you. Professionals have specific safety equipment to protect themselves, and they're experienced in walking along steep slopes.
Common Industrial Roofing Materials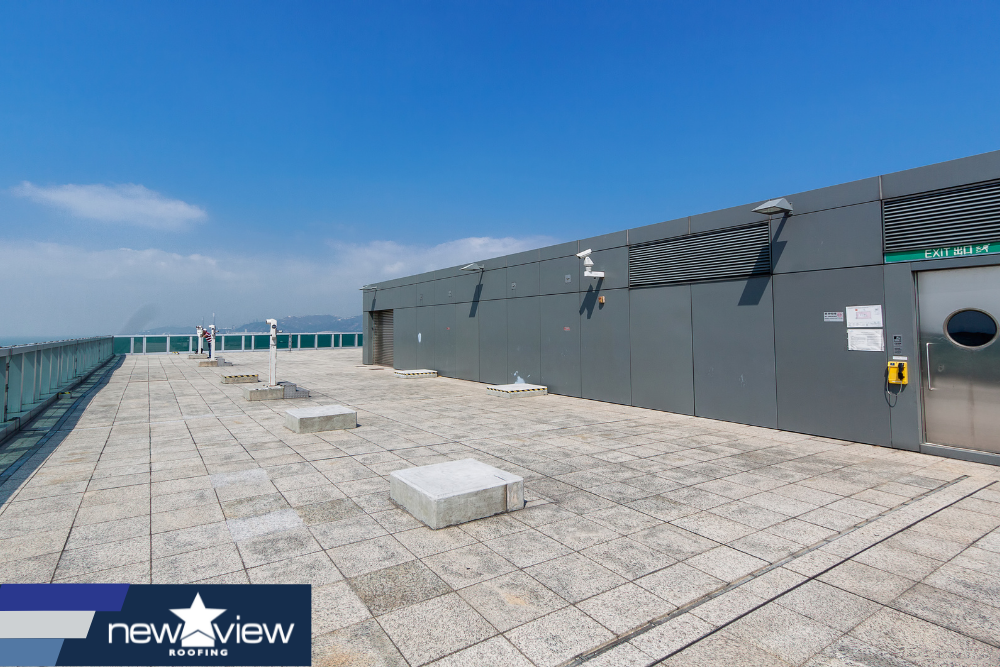 If you're replacing a roof or building a new space from the ground up, you'll have several options when it comes to the materials you choose to protect your investment. Some of the most common industrial roof materials include:
Built-up roofing membrane
Metal roofing
Modified bitumen roofing
EPDM roofing
TPO
PVC
Here's a closer look at these common industrial roofing materials.
Built-Up 
Built-up roofing membrane generally lasts more than 20 years (especially with proper care and maintenance), and it's made by alternating layers of tar and gravel. These types of roofs are generally inexpensive and easy to repair, though your cost will depend on the number of layers comprising your roof. The more layers a built-up roof (commonly called BUR roofing) has, the more durable it is.
BUR is generally seamless, and it holds up well to foot traffic. It's UV-resistant, too, and it may even be coated to reflect heat and help you maintain reasonable energy costs for heating and cooling your building.
Metal 
Metal roofing can last from 40 to 60 years with proper care, which makes it a very popular option in the industrial sector. You can choose from several types of metal, including:
Aluminum
Coated or stainless steel
Copper
Corrugated galvanized steel
Tile sheets
Tin
Zinc
Metal roofing strongly resists fire, and it's more sustainable than many other industrial roofing options. It has aesthetic benefits, too – it gives buildings a "finished" look.
Modified Bitumen 
Modified bitumen roofing is asphalt-based, and it's a bit similar to built-up roofing. It's designed to be used on buildings with low-slope or flat roofs, and it's made to withstand harsh environmental conditions. It provides five layers of protections from wind, water, snow, hail and the sun, and it comes with several other benefits, including superior waterproofing characteristics, high tensile strength, and a reasonable life cycle cost.
EPDM 
EPDM roofing – that's short for ethylene propylene diene terpolymer – is a synthetic rubber membrane that your industrial roofing contractors will roll on your roof system. These types of roofs boast strong protection against sunlight, and they're very versatile and long-lasting. These types of roofs are available in black and white, but although it's not always the most aesthetic choice, it's an affordable alternative to more expensive materials.
TPO and PVC 
Thermoplastic polyolefin (TPO) and its counterpart polyvinyl chloride (PVC) are incredibly resistant to all kinds of hazards, including:
Common solvents like alcohol
UV light
Fats and oils
Bacterial growth
These lightweight, heat-reflective and puncture-resistant roofing materials are made to be air-welded at the seams, which locks out water. TPO and PVC industrial roofs are also fire resistant, and they can handle high temperatures and strong winds, which means they're durable and sturdy enough to protect your building under difficult environmental conditions.
Shingles 
Pitched roofs generally come with fewer material options. The most popular roofing materials for pitched industrial roofs are shingles, which you can choose in a variety of styles and colors. Asphalt shingles are generally the most cost-effective, though some architectural shingles can be fairly costly. Shingles can be made from asphalt, plastic, ceramic and a variety of other materials, and they're good at helping repel water to protect underlayment (the materials beneath them that help hold up and protect your roof).
Unfortunately, shingles sometimes don't last as long as other types of industrial roofing materials do. Depending on the brand and style you choose, your shingled industrial roof may last only 20 to 30 years – and that means it may not be the most cost-effective choice for your building.
Choosing the Right Industrial Roofing Materials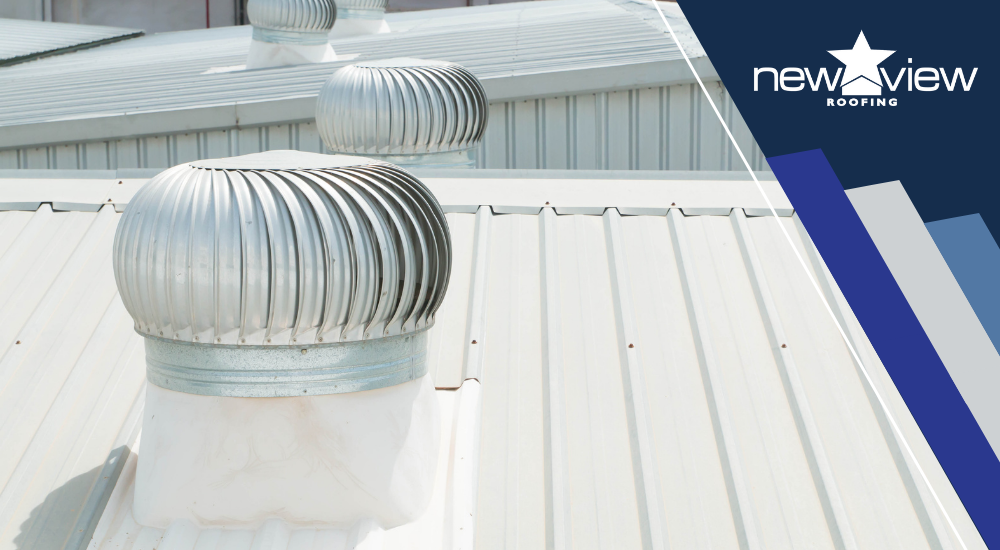 Your industrial roofing contractor will talk to you about all your options, but as you choose materials, you should consider whether your roof is:
Visible from the road
Exposed to chemicals, grease or other contaminants
Facing the sun or in a shady spot
Exposed to high winds
Exposed to temperature extremes
You'll also need to consider whether you'll need to use your roof as extended square footage – if you'll install air conditioning units, satellite dishes or other items on top of it, the type of roof and the materials you choose will make a big difference.
Local Industrial Roofing Expert 
New View Roofing has over a decade of experience installing low-slope (flat) roofing. Our roofing contractors are highly trained in the industry's latest installation techniques and practices. 
We're respectful of your schedule and show up to every job site on time, while ensuring minimal impact on your daily operations.
Roof Coatings 
Investing in a coating restoration system is a cost-efficient way to extend the lifespan of your commercial roof. Roof coatings will give your roof new life without a complex and expensive roof replacement. Coatings especially help with leak stoppage on flat or low-slope buildings.
New View Roofing is a locally-owned and -operated business that offers a customer-focused team with over 25 years of roofing and home remodeling experience. We provide full-scale residential, commercial and industrial roofing services throughout the North Dallas-Fort Worth Metroplex.