Commercial Roof Maintenance Services in Dallas, Fort Worth and Nearby Communities
Constant exposure to the elements, including UV rays, heavy rainfall, hail and wind, will eventually take a toll on your commercial roof. To maximize and extend its life expectancy, New View Roofing provides tailored roof maintenance programs to keep it at peak performance throughout the year.
Why it's Important to Maintain Your Roof
The wellbeing of your business and those it protects is important to us. That's why New View Roofing offers yearly roof maintenance programs to identify potential sources of future problems. Our comprehensive maintenance program includes:
An initial inspection. To begin, one of our highly trained contractors will assess your roof and prepare a written analysis of any necessary repairs. We'll assist you with the roof repair process to get your commercial roof in top condition.
Annual observations. After your roof is repaired and meets the necessary program requirements, we'll schedule annual observations. We'll survey the total roofing system to ensure everything is in working order.
Maintenance checklist. The professionals at New View Roofing will create a tailored checklist for your commercial or industrial roof's specific maintenance needs. If your roof needs major repairs or a replacement, we'll provide you with the solution we recommend.
Warranties. Warranties protect the investment of your roof for decades to come. We offer a variety of warranties from the top manufacturers in the industry.
Affordability. Our maintenance program is affordable and saves you money on roofing costs in the long run.
 
What Kind of Maintenance Do Commercial Roofs Need?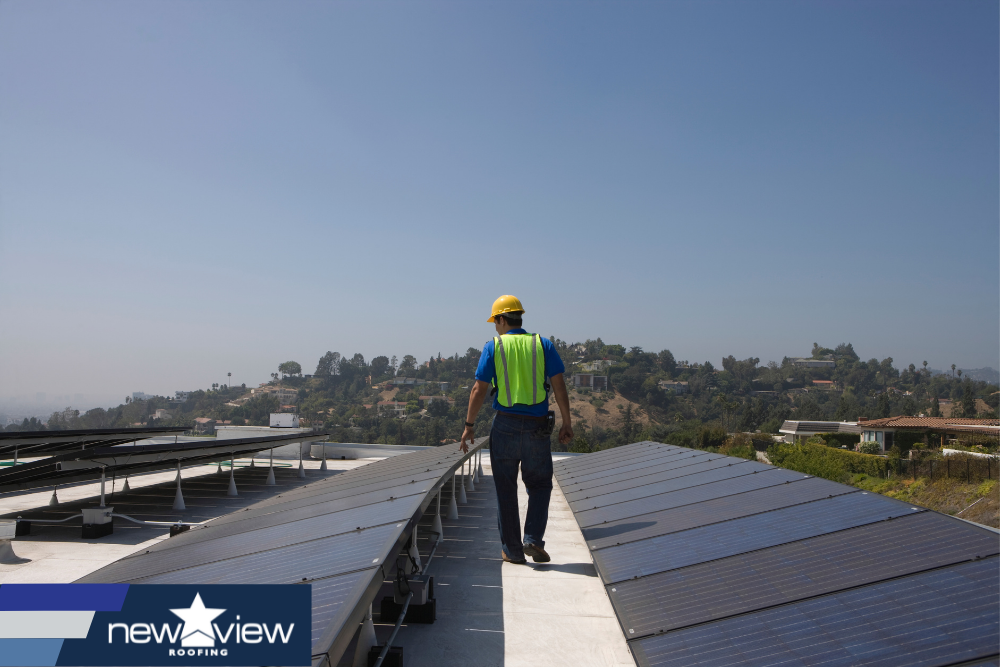 Different roofing materials need different types of maintenance. However, maintaining your roof will extend its lifespan and save you money in the long run – and it will make you aware when your roof has issues that need to be repaired. When you know about problems early, you can take steps to fix them and avoid more costly repairs (and even put off a commercial roof replacement for longer).
General commercial roof maintenance helps your roof last longer, and it includes things like:
Twigs, leaves and even rocks can make their way up on your commercial roof, and all of those things can cause significant damage. Loose materials can also prevent water from draining from your roof properly, which will deteriorate your roofing materials.
Checks on roof equipment. The equipment on your commercial roof, whether it's an air conditioning unit, a chimney, skylights or something else, all needs to be working properly to protect your roofing materials.
Removing snow. If you have a flat roof, you'll want to remove snow in some instances. (However, in many cases, the snow melts and drains away without posing a problem.)
Removal of algae, moss and mold growths. Algae, moss and mold can cause significant damage and degradation to your roof, which means removing it should always be part of routine roof maintenance.
However, different roofing types require different types of maintenance and check-ups. The following table outlines common items that need to be checked regularly on different commercial roof materials. On all roofs, a professional inspector will check the flashing around chimneys, skylights, vents and other hardware, as well as the fasteners that hold the roofing materials in place.
However, different roofing types require different types of maintenance and check-ups. The following table outlines common items that need to be checked regularly on different commercial roof materials. On all roofs, a professional inspector will check the flashing around chimneys, skylights, vents and other hardware, as well as the fasteners that hold the roofing materials in place.
| | |
| --- | --- |
| | Curling, loose, damaged or missing shingles; missing shingle granules; bald patches; pooling water or poor drainage |
| | Cracked, detached, damaged or missing tiles |
| Ballasted roofing systems | Uneven distribution of rocks; tears in roof membrane |
| Built-up and modified bitumen roofs | Bubbles, blisters and cracks; wear around connections; tears or punctures; excessive weathering; loss of embedded gravel; loss of protective coatings |
| Single-ply roof systems such as TPO and PVC | Tears and worn seams; seam failure or gaps; punctures; brittleness; loose membranes or blisters |
| Sprayed polyurethane foam | Tears, punctures or worn spots; thickness of acrylic coating |
| | Deteriorated washers; worn paint or discoloration; rust; dents and dings |
Don't Wait Until Damage Gets Worse.
Should You Hire Someone to Maintain Your Roof?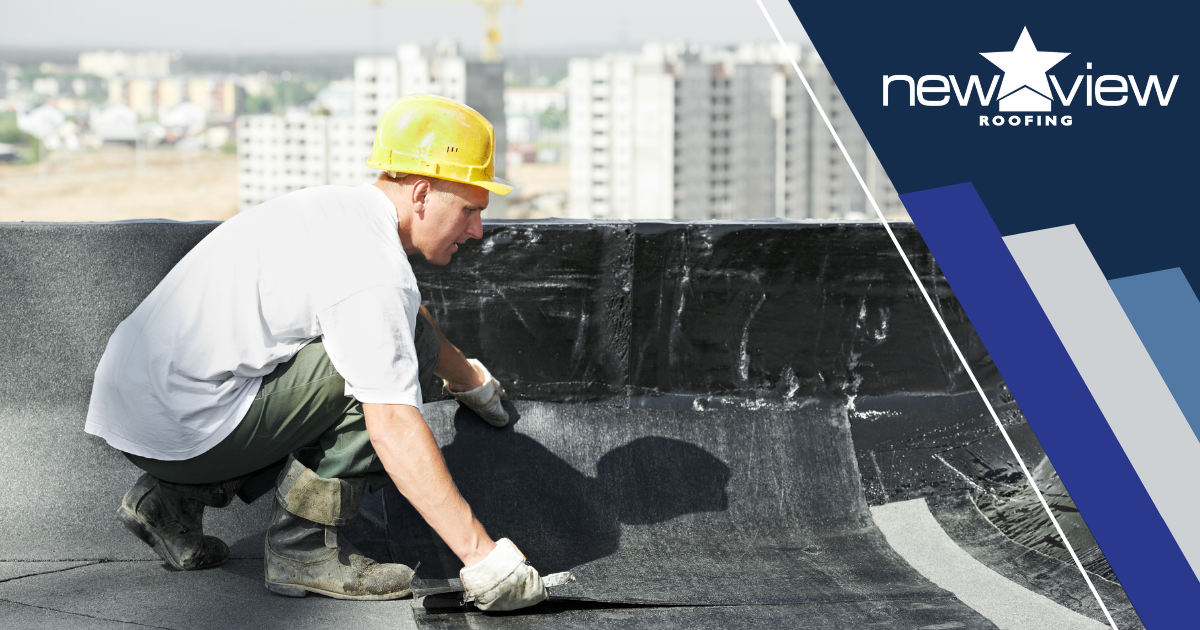 For most commercial building owners, hiring someone to maintain the roof is a simple choice. Hiring a team of professionals is the simplest way to make sure you're extending your roof's life and saving money in the long run – and it keeps you on the safe, solid ground. Commercial roof maintenance is different from residential roof maintenance, partly because the materials are different. Although many building owners are familiar with the types of roofing materials they have, maintenance can be difficult and time-consuming, which means it's often better to hire someone to handle the job.
Benefits of Hiring a Roof Maintenance Contractor
New View Roofing is here to contribute to the success of your business by giving you the peace of mind that your roof is functioning efficiently and providing the protection it should. 
When you hire a roof maintenance contractor, you don't have to worry about a thing. Our team will conduct all the maintenance you need. We'll also inspect every inch of your commercial roof to make sure it's free from damage – and if we find any trouble spots, we can head them off before they become bigger issues.
Typically, hiring a roof maintenance contractor pays for itself in savings. Your roof maintenance technician will inspect your roof for problems and conduct routine maintenance that helps prolong your roof's life – and that means you're farther from a roof replacement than you would be if you didn't maintain it. Your roof maintenance package will include everything it takes to keep your roof operating at peak performance as it protects your building and everything (and everyone) inside.
How Often Do Commercial Buildings Need Roof Repairs?
You should have your roof inspected at least once a year, and that's something we handle with our roof maintenance packages. You should also have it inspected after any major storm, or when you see debris on your roof that may have led to damage.
All roofs have different lifespans. Some materials last far longer than others do – and sometimes, the quality of the workmanship plays a role in how often a roof needs repairs. The bottom line is that it depends on the quality of the materials and the workmanship.
However, even with high-quality materials and top-notch workmanship, natural disasters, storms, high winds and fallen trees can wreak havoc on your roof. Unfortunately, there's no way to predict when – or how often – outside factors will damage your roof and create a situation that you need to repair.
You should always be on the lookout for roof damage from the inside of your building, as well as conduct visual inspections from the ground if possible. When you're indoors, check for water spots on the ceiling – those are a telltale sign that there's a leak present. Leaks need to be addressed immediately, because they never get better with time. Other signs that your roof needs some maintenance include:
High humidity indoors
Skyrocketing energy costs, even when your usage has remained the same
The presence of mold in your building
Dark or dirty-looking spots you can see outside
Frost in areas above ceiling tiles
Rusted gutters
Do You Need to Talk to the Pros About Commercial Roof Maintenance?
If you're looking for help maintaining the roof on your commercial building, give us a call. Our team is familiar with all commercial roofing materials, including TPO, PVC, metal, tile, asphalt and more.