Roof damage is a huge issue facing Dallas homeowners – and although it may be possible to make repairs, a roof can only last so long. Eventually, roof replacement becomes necessary. But what should you consider before you commit to a full replacement?
Here's what you need to know.
Roof Replacement: What to Think About Before Moving Forward
A damaged roof will, without exception, cause more problems if left untreated. Leaks can damage the ceiling and attic, and in the meantime, they often lead to the formation of mold. And if your electrical circuit breaker panel is in the attic, your home also becomes more prone to fires. Delaying a roof repair or replacement will actually cost you more in the long run than fixing it would today.
Like any major home improvement project, a roof replacement requires serious preparation. Check out these planning tips from the experts at New View Roofing:
Prepare a budget
Know your options
Hire someone you trust
Work around the right schedule
Make a plan for kids and pets
Here's a closer look at each.
Prepare a Budget
The cost of your project will depend on the size of your roof, the materials you choose and your contractor's rates. Find out if the cost of your roofing materials includes the removal of the old roof, permit fees, cleaning and waste disposal. The overall cost of a roof replacement for a small house may be vastly different from that of a large house.
The best roofing company can minimize your replacement costs. Whether your home was recently affected by bad weather or your roof has simply reached the end of its lifespan, you need to work with a company that understands your budget – and that's willing to respect it.
Know Your Roofing Options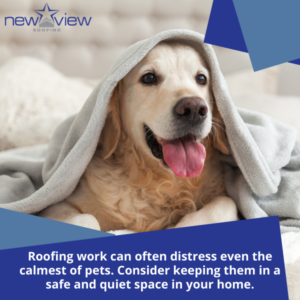 Often, roofing materials are limited by your geographic location – what's commonly available (and less costly) may be different in Dallas than what you'd find if you lived in another city or state. You also need to know that your roof's pitch (its angle) will help determine what types of roofing materials you can use.
Some of the most popular roofing materials in the Dallas-Fort Worth Metroplex include:
Asphalt shingles. Asphalt shingles are the most popular material, and they're the least expensive. They can withstand high winds, inclement weather and hours of scorching sunlight while protecting your home.
Wood shakes. Wood shakes cost more than other types of roofing materials, but they're exceptionally durable. They're a great option in fire-prone places, so that's another thing to consider before you have your roof replaced.
Metal roofing – specifically, steel and aluminum – is very popular because it's durable and fireproof. The aesthetics are great, too.
Slate can be expensive, and it's very heavy and tough to repair – but it's beautiful and long-lasting. You also have alternatives to real slate, which you can ask your residential roofing contractor to explain.
Clay or ceramic tile. Commonly referred to as "Spanish-style" roofing, these red clay or ceramic tiles are fire-resistant. They can last for years (longer than asphalt, in many cases), which makes them a very cost-effective and aesthetically pleasing choice.
Hire Someone You Trust for Your Roof Replacement
Getting the most for your money requires you to do a little homework. You'll want to see which contractors have positive reviews, and find out who other locals recommend. Take some time to read about what services a contractor offers, and definitely check out the service warranties available. Any contractor you hire must have proper licensing and insurance; that's for your protection and theirs. A good contractor also will offer you various material options.
It's important to hire a reliable contractor for your roof replacement. New View Roofing provides a comprehensive range of services in Dallas that cater to every roofing need. Let's start planning your project today.
How Much Will a Roof Replacement Disrupt My Schedule?
People are often confused about how a roof replacement will affect their day-to-day lives. Some people wonder whether they should move out temporarily while their roof is being replaced, or whether it's okay to go to work while contractors are working on their homes.
The answer can be summarized simply: you don't have to move out. A roof replacement is a major home improvement project, but you don't even have to leave your home while it's happening. Of course, jobs vary from one place to another, and it's important to take things on a case-by-case basis before making a decision. We'll be happy to tell you more about how your roof replacement will work – we can let you know how long it will take, what areas of your home our professionals need to access, and what you can expect after we arrive at your house.
Scheduling a Roof Replacement: The Basics
Although replacing a roof is a pretty big undertaking, the whole job rarely takes more than a week. Barring weather-related concerns and other unexpected challenges, tearing out an old roofing system and installing a new one typically only takes about two or three days. Roofing contractors also usually work during the weekday while everyone is at work or in school, which means even less disruption to your normal day-to-day activities.
What Should I Do With My Pets During a Roof Replacement?
You can expect a team of strangers walking on your roof and going about your home during a roof replacement. This much traffic can often distress even the calmest of pets. It's best to ask a close friend or a relative to house your animals temporarily while the work is happening. If this is not an option, consider keeping them in a safe and quiet space in your home (like the basement) instead.
Can My Kids Be Home While You're Replacing My Roof?
Your kids can be home while we're replacing your roof – although we may make a little more noise than they're used to hearing. You might have to adjust for small children (particularly those who take naps – and that goes for napping adults, too!).
Tell your kids that there will be people working on the roof, and then establish a few ground rules. Let them know that it may not be a good idea to play outside, where roofing materials could fall and hurt them, and that they're allowed to watch from a safe distance if they find the process interesting (most kids do).
How Can You Be Sure Your Roof Needs to Be Replaced?
If you suspect there's something wrong with your roof, or if it's been a while (more than a year) since you've had a professional roof inspection, it's time to call in the experts. Your roof inspector will look at every aspect of your roof, checking for damage that you may not have noticed yet, damage you already know about, and issues that could lead to bigger problems down the road.
In many cases, a simple repair can do the trick. You don't need a complete roof replacement if just one shingle is damaged! However, when the damage is too extensive, or when the slightest adverse weather event is probably going to cause irreparable damage, it may be time for a roof replacement.
You should only work with a roofing contractor you trust to tell you the truth. Our experts know that roof replacement is expensive, and we'll tell you whether it's absolutely necessary. If your roof only needs repairs, we'll let you know – because our reputation for being the most honest roofing contractors in Dallas-Fort Worth is important to us. Our goal is to provide you with expert guidance every step of the way; if you need a new roof, we'll work with you. We can help you find the best materials for your budget, and we'll work around your busy schedule to protect your home from the elements.