A new roof is one of the most important investments you'll make, so you need to pick the right residential roofing contractors. That means you'll have to do some homework – but where do you start? The best way to find the right roofing contractor is to ask questions. A good contractor will have the answers you need – and won't be shy about sharing them.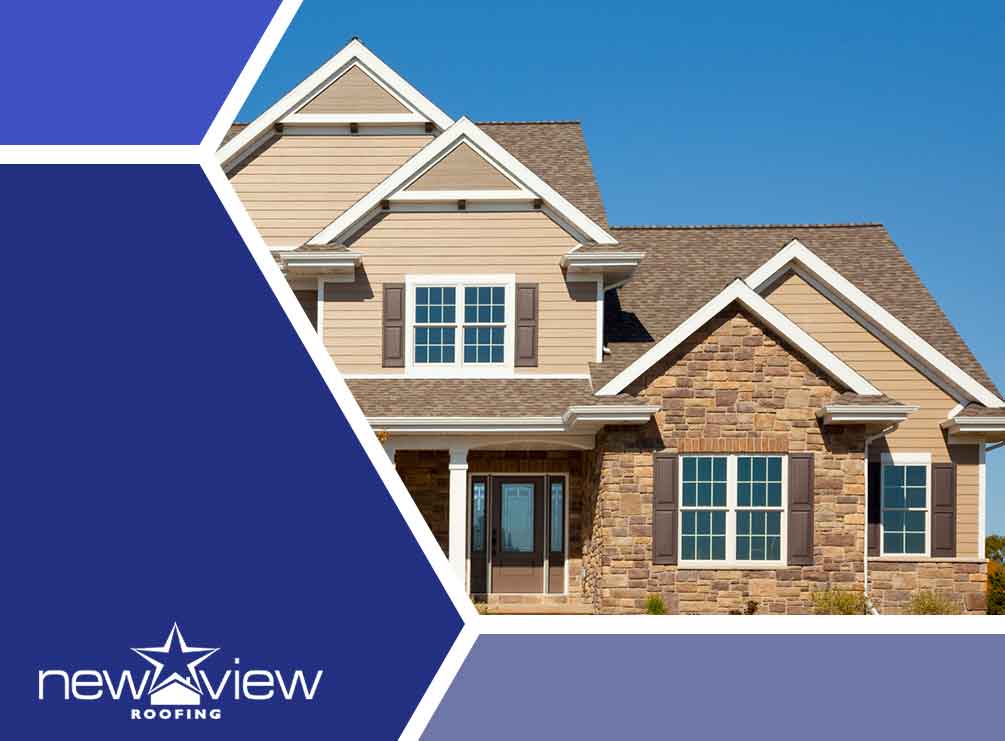 7 Questions to Ask a Roofing Contractor Before You Make a Hiring Decision
You already know how important it is to work with experienced residential roofers on your next roofing project, especially if it involves roof repair or replacement. To find out whether a company is the right choice for you, you'll want to ask these seven questions:
Are you licensed and insured?
Can you share references?
What roofing materials do you offer?
What is your change process?
Do you offer storm damage repair?
Will you remove my old roof or leave it on?
What additional roofing services do you offer?
Here's a closer look at each – and the types of answers you can expect from a good contractor.
Roofing Contractor Question #1: Are You Licensed and Insured?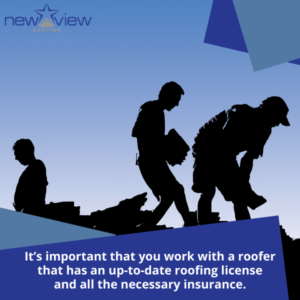 It's important that you work with a roofer that has an up-to-date roofing license and all the necessary insurance. Liability insurance, in particular, is especially important. It protects you from damage caused by roofers during the project.
Pro Tip: Don't be afraid to ask for documentation. A good roofing contractor will be able to prove licensing and insurance.
At New View Roofing, we always carry an updated license and have all the necessary insurance to give you the peace of mind you need.
Roofing Contractor Question #2: May I See Homeowner References?
Ask your prospective roofer if you can see references from previous clients. This allows you to better gauge a contractor's workmanship through reviews and testimonials. You can ask for a portfolio of their previous work, too.
It's also a good idea to do a little online sleuthing to find out what others are saying about a contractor you're considering. People aren't shy about leaving reviews with genuine experiences, so search a company's name to see what comes up. You can also check with the Better Business Bureau.
Roofing Contractor Question #3: What Roofing Materials Do You Offer?
Make sure to ask your prospective roofers what roofing systems they have to offer. Asking this is a simple way to get a good idea what your roofing options are, and you'll also be able to discuss the more technical matters, such as how the material or system in question will perform (including how it holds up during weather events).
A roofer that offers more than one type of asphalt shingle roofing can give you more flexibility in your design. Many homeowners are surprised that asphalt shingles are available in options other than what they're used to seeing around the neighborhood – including the increasingly popular dimensional shingles.
Most good roofing contractors offer at least:
Asphalt shingles. These are the most common types (and the least expensive). These shingles come in a variety of colors and styles, and some cost more than others do.
Metal roofing materials. Aluminum and steel roofs are very popular because they're durable and fireproof. They do cost more than asphalt shingles.
Natural slate is heavy and durable, and it creates a luxury aesthetic. Your contractor can explain your options when it comes to slate – and if you want the look but not the cost, you may be able to take synthetic slate for a spin.
Clay and ceramic tiles. Spanish-style roofing is unmistakably beautiful, and it may be the right choice for your home. The tiles are fire-resistant and rugged, and they do well during inclement weather.
Manufacturers like GAF and Owens Corning® offer uncommon options, such as fish scale and slate-style shingles, which could be more appropriate for the style you want. As one of the few GAF Master Elite® residential roofers in the area, we can offer you high-quality roofing systems from GAF. When you work with us, we'll make sure you always get a lifetime value out of your new roof.
Roofing Contractor Question #4: What Is Your Change Process?
Certain situations call for changes while the project is underway. Sometimes roofers discover hidden roofing issues while they're removing an existing roof, such as wood rot. In other cases, the homeowner changes his or her mind after seeing the materials. The homeowner needs to sign off on changes that will delay the project's completion and can change the project's costs – that's standard across the industry.
To protect yourself, you'll want to find out what the process is if any changes become necessary during the project. Ask the contractor what happens if roofers find damage, if the materials aren't what you expected, or what will happen if you change your mind. That way, you're prepared for the unexpected.
Roofing Contractor Question #5: Do You Offer Storm Damage Repair?
Make sure to ask if your prospective roofer offers storm damage repair. Inclement weather will pop up at the most inconvenient times, so it pays to know if your prospective roofer can offer emergency services.
There are several ways that storms can damage your roof, but the most common are:
Wind damage. Fast-moving, strong winds can lift up shingles – even when they're nailed down perfectly. Tiles and shingles can actually come right off your roof during bad storms. If that happens, rain and debris can make its way into the underlayment and other materials beneath the parts of your roof you can normally see from the street. That puts your home at risk for further damage, so you'll need to have these issues checked and repaired by professionals as soon as possible.
Debris damage. Flying debris can damage your roof significantly during a storm. Although asphalt shingles can typically stand up to minor impacts from debris, other types of materials can dent or crack, and you'll need a professional to fix them.
Water damage. Water damage from a storm can be catastrophic – and the sooner you address a leak, the better. In many cases, an expert roofing contractor can make repairs that prevent post-leak damage quickly, so you'll need to ensure the contractor you work with can come back out in an emergency.
Roofing Contractor Question #6: Will You Remove the Old Roof or Leave it On?
Some homeowners choose to have their new roofs installed over the old one to save on the tear-off and disposal costs. The problem with this installation method, however, is that if the roof structure has hidden issues, they will not be addressed and could result in premature failure. Whatever you save with this process could get spent on repairs. To reap the full benefits of a new roof, we always recommend a complete roof removal.
Roofing Contractor Question #7: What Additional Roofing Services Do You Offer?
Hiring a roofer who offers emergency roof repairs and other services can be extremely beneficial if your home sustains damage from a passing storm. If you don't have experience handling insurance claims, insurance restoration roofers like New View Roofing can work with your insurance provider to make sure all the claim requirements are met.
Do You Need to Talk to a Roofing Contractor?
We'll be happy to answer your questions and help you make the right decision for your family, your home and your budget. Call our office today to speak with a certified roofing professional.