The state of Texas ranks top in the nation for hail damage claims, and unfortunately, it also ranks pretty high on the list for roofing scams. That's because shameless people will come in after a storm and pose as legitimate roof repair companies – but they either never intend to complete any work or they complete subpar work that ends up costing homeowners even more money.
So how can you avoid roofing scams after a hailstorm? This guide gives you the details on how to spot a scam a mile away and how to avoid being taken in by a "roofing company" that appears legitimate but isn't.
Roofing Scams After Hailstorms
There are myriad types of roof repair scams out there today, but they're all designed to separate you from your hard-earned money. Whether people leave flyers on your vehicle, or, or in your mailbox, or you receive a phone call or email about affordable roof repair services after a hail storm, you have to be cautious.
How Does a Standard Roof Scam Work?
A standard roof repair scam goes like this: An unscrupulous person gets in touch with a homeowner or business owner whose roof may have been damaged during a recent storm. The person claims that they represent a roofing company, and they use a significant amount of pressure to get you to sign a contract on the spot or pay for roof repair services.
They may also seem to offer very cheap services, a "once in a lifetime deal" or to pay your insurance's deductible for you, which is illegal in the state of Texas.
Sometimes, these people offer to perform a roof inspection right then and there (and unfortunately, in many cases, they end up doing more damage while they are on the roof to inflate insurance claims).
Often, these people take your money and run. They don't even bother to come back and pretend to work. However, in some cases, they do come back and perform substandard work that could end up costing you more money in the long run.
Related: What to do after a North Texas storm
7 Tips for Avoiding Roof Repair Scams After Hailstorms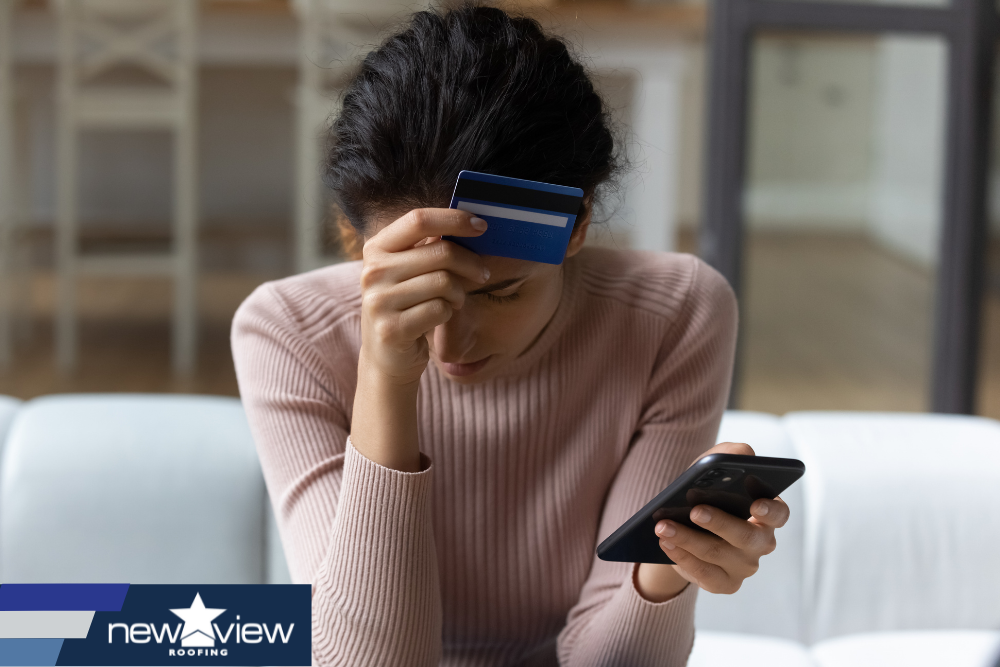 You may think it's easy to spot a roof repair scam a mile away, but many people end up being swindled. Use these seven tips to avoid post-hailstorm roof repair scams:
Use phone numbers and license plates as a guide
Check for longevity
Coordinate with your insurance company
Ask for references
Get multiple estimates
Work only with a licensed and insured contractor
Pay with a check or credit card
Here's a closer look at each.
Use Phone Numbers and License Plates as a Guide
If a person claims to be a local roof repair expert but has an out-of-town number out-of-state license plate, you'll need to do some extra checking before you commit to anything. That's because many scammers come from across the country just to take advantage of Texas homeowners. If you don't recognize the area code, there's a good chance you're not dealing with someone local.
Check for Longevity
If one of these people gives you a business name, do some checking. See if you can find any records of the company doing business. If you can't, there's a good chance that the company just sprouted up for the express purpose of ripping off people in the area.
You should also look for a company's website to determine how professional it is in providing services in the local area.
Coordinate With Your Insurance Company
Your insurance company will be able to tell you whether a company is likely legitimate, and when it comes to roof repairs after a hailstorm, you should be working with your insurance company anyway.
Related: What can you expect to happen during a free roof inspection?
Ask for References
You should always ask for references from any roof repair company. A good roof repair company won't have any problem letting you talk to past clients to learn about their experiences because they have nothing to hide. However, if a company refuses to give you past references, or if you can't find any on your own, it's a sign that you're not dealing with someone ethical.
You can also take the opportunity to look for online reviews about any roofing company you'd like. Usually, these reviews aren't hard to find; there are even national websites that have hundreds of local listings all over Texas.
Get Multiple Estimates
Often, roof repair scammers offer incredibly cheap roof repairs after a hailstorm. Although there's absolutely nothing wrong with wanting to get the best possible deal, you should make sure that a deal isn't too good to be true. You can do that by getting multiple estimates from other companies before deciding which one to go with. If other companies are telling you that your roof repairs will cost a significantly higher amount than what the original company is telling you, it's a sign that someone just wants to take your cash and run.
Related: What should your roofing estimate include?
Work Only With a Licensed and Insured Contractor
Never, ever have worked performed by a contractor that isn't licensed and insured. That's because a license shows that the contractor has no problem keeping up with local laws and regulations, and insurance gives you the peace of mind you need if something goes wrong. A reputable roofing company won't have any problem providing you with license and insurance information.
Pay With a Check or Credit Card
Pay for your roofing services using a check or credit card, which you can cancel if you've been scammed. Never pay cash, because it's all too easy for an unscrupulous person to walk away with your money and never come back. You can't trace cash, either, so once it's gone, it's gone.
What Else Can You Do to Ensure You're Not Working With a Scammer After a Hailstorm?
You should take a proactive stance in your roof repairs by contacting a company you can trust when you suspect hail damage. A little bit of suspicion goes a long way when someone reaches out to you and offers to repair your roof. Make sure you read reviews, talk to your neighbors about companies they've worked with, and do your due diligence to make sure you're not about to get scammed.
Additionally, regardless of who you work with, you should always get a signed contract before any work begins on your home – and certainly before you exchange any money.
Related: How to choose a trustworthy roofing company
Do You Need Roofing Help After a Hailstorm?
If your roof has been damaged during a hailstorm, or if you suspect that it's been damaged, we may be able to help you. Call our office now to schedule a free roof inspection with a company you can trust so you don't accidentally fall prey to one of the many roofing scams out there today. We'll inspect your roof for free, and we'll give you a detailed report of all the issues our inspector finds. We'll also provide you with a no-obligation estimate so you can make the right decision for your budget and your family.