New View Roofing, your local roofing contractors, is ready to assist homeowners with your remodeling needs. The roof should always be the first part of the house to get remodeled as it plays the biggest role in securing your home from the elements; on top of being a visual component that affects your home's curb appeal.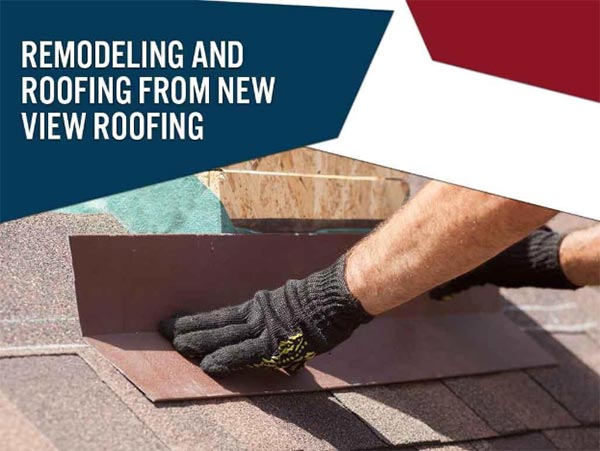 In this post, you'll learn how we can help you with your roof remodeling needs.
Insurance Repair
As local roofers, we can assist homeowners like you with insurance repair such as when your home sustains storm damage. The roof is the first line of defense against inclement weather and takes the brunt of the damage dealt by a storm.
Securing the necessary funds for this kind of repair isn't easy as the insurance process takes time and effort to navigate through. As insurance repair contractors, we'll make sure you get the right compensation for your repair project. We'll also be more than happy to represent you and will work closely with your insurance company to ensure quality roofing.
Roof Installations
Whether you're replacing your old roof or fitting a new one on your brand-new property, it's the smart choice to work with residential roofers. Poorly installed roofs don't just have a reduced operating life span; they encounter more problems too. In fact, most roofing problems trace their origin to a problem or quirk in the roofing installation process.
As your local residential roofers, we'll install your new and replacement roofs to the manufacturer's specifications to the letter. We carry high-quality roofing systems from GAF, which we back with strong roofing warranties and our expert workmanship. You get sturdy and energy-efficient roofs when you work with our experienced team.
Gutters
Finally, we'll outfit your home with gutters. While many homeowners see them as optional additions to the roof, they are responsible for keeping your exterior from accruing water damage from rain and protecting your foundation from standing pools of water.
Whether you need a replacement roof or new gutters, let us help you get your remodeling project done right. Call us today at (469) 232-7220 to learn more about how we can help improve your home through our roof remodeling services. We are local roofing contractors serving homeowners in Little Elm, TX, and the surrounding communities.